Midlo track competes at states
2019 VHSL state outdoor track and field meet
On May 31 and June 1, 2019, Midlo's Outdoor Track and Field team competed at the VHSL State Outdoor Track and Field Championships at Liberty University in Lynchburg, Virginia. These outstanding athletes worked extremely hard on the track, in the pit, and around the circle to prepare for the tough competition at the state meet. At this meet, athletes faced fierce competition that pushed them to run harder, jump farther, and throw with more power; at the conclusion of the competition, every Trojan left bearing excited smiles as the season draws to a close.
The Midlo Outdoor Track and Field team began their competition with a bang, as the 4×800 meter relay, consisting of Millie Weinhold, Chloe Martin, Annabel Schepker, and Lena Caffall, placed fourth in the state. Then, thrower Taylor Wiggins threw her way to fourth place in the shot put competition, with a distance of 37-07 feet, and Brayden Staib placed fifth in the shot put and tenth in the discus throw. Additionally, senior Max Etka finished his high school career with a third place finish in the 1600 meter run; over the years, he has contributed hundreds of points to Midlo's various running teams. Senior Erin Babashak, Midlo's highest female contributor, placed eleventh in the high jump, third in the triple jump, third in the 100 meter hurdles, and led Midlo's 4×400 meter relay team, including Caroline Bowe, Dasia Hardy, and Millie Weinhold, to become state runners-up. Other top performers include: Lundon Anderson (5th, triple jump; 4th, long jump), John Jennings (5th, 110 meter hurdles), Madelyn Venable (9th, long jump), Brian Tavenner (30th, 3200 meter run), Midlo's 4×100 meter relay (3rd), Caroline Bowe (4th, 800 meter run), Annabel Schepker (9th, 1600 meter run), Millie Weinhold (10th, 800 meter run), and Dasia Hardy (3rd, 200 meter dash).
At the conclusion of the meet, the Midlo Girls finished in third place in the team competition, and, despite the small population of Midlo Boys, the boys placed well. Sophomore Millie Weinhold states, "I had so much fun, and I am very proud of my team; although we had a few rain delays, it was so exciting to run in such a big meet." Next, many of these athletes will continue to train as cross country season approaches.
About the Contributor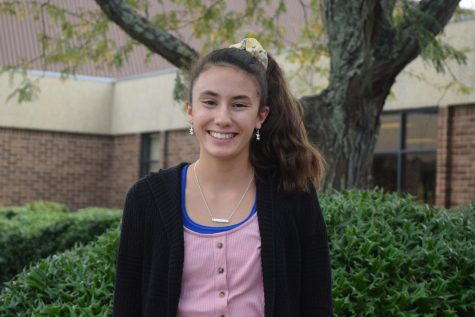 Katherine Krievs, Editor-in-Chief
Katherine Krievs, Editor-in Chief, Class of 2021