Dingus Discovers Underlying Beauty
2019 NAHS April Artist of the Month: Isabel Dingus
Within Midlothian High School, various artists use multiple art forms to express themselves, paving their way through the art world. From the precise journal sketches to the intricate sculpture designs, every artist illustrates a message based on their persona, creating masterpieces subject to their beliefs and values. Each month, Midlo's National Art Honor Society (NAHS) spotlights one artist for their efforts and expressions in the art world and their pieces, such as senior Isabel Dingus. An individual who punctuates the beauty within our surroundings, Dingus uses the natural world to branch out of her comfort zone. Through organic materials found within nature, Dingus creates art that leaves the viewer appreciative of what the world truly has to offer on a daily basis.
What is your message/theme of your art?
I hope the message that people are able to take away from my pieces is just the beauty of everyday things. We tend to look past the things that are used everyday, and I hope that my work makes the viewer take a step back and appreciate the little things that some do not have the luxury of having.
What is your inspiration?
My inspiration has always been nature, and many include some type of organic form. As of this year, I have also been working with a lot of metal and taking inspiration from old industrial buildings while contrasting it with the more natural materials.
What is your favorite part about art?
Like I have said before, art has been part of my life for so long, and I have been able to watch myself grow, which has probably been one of my favorite parts. I have also enjoyed the freedom that it has allowed me to find in my life, as well as the opportunities that have been opened up to me, such as becoming Vice President of NAHS.
How do you come up with new art? Do you have any special techniques you use to get out of artist's block?
When it comes to creating new work, it's always just flowed out of me. I rarely ever plan, and I make it up as I go. I've been lucky and have not experienced artist's block yet, but I have been surrounded by some of the most talented artist and am always feeding off of their creativity.
Do you plan to continue art in the future?
Although I don't plan on continuing studio art, I will be attending Radford in the fall with the hopes of majoring in interior design and architecture, both of which use many of the processes and techniques I have learned throughout the last few years. Art will always be one of my defining characteristics and something that will always follow me.
Leave a Comment
About the Contributor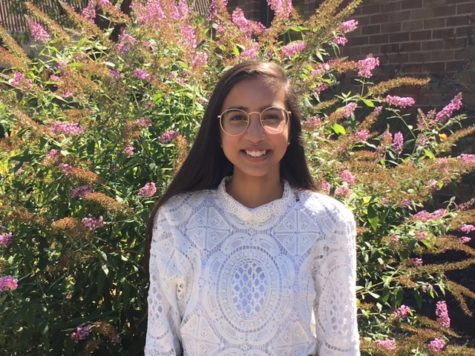 Nabiha Rais, Copy Editor
Nabiha Rais, Class of 2019