NAHS welcomes new inductees
National Art Honor Society celebrates the arts
Hang on for a minute...we're trying to find some more stories you might like.
On Friday, November 15, 2019, National Art Honor Society held an induction to celebrate the commencement of Midlo's artists, photographers, and graphic designers who excel at their craft.
NAHS focuses on the art scholarship, service, and character of students, as they accept the responsibilities of a continuous growth in their medium of skills, while serving their school, their peers, and the community. This chapter, in accordance with the others across the country, introduced Midlothian High School's fine arts students to a society with an appreciation for the ambition, point of view, and passion put forth to create any medium of an artistic piece.
Current NAHS members participate in a number of activities in and out of the building. Individual students volunteer at art events with children's groups or at elementary schools; many art students attend the Washington, DC, field trip in November, where they visit four historical or contemporary galleries and museums; advanced students work towards an AP and IB portfolio to submit in the spring; the Display Committee works to update artwork displayed around the school; and, in the winter, some of the upper-level members travel to nearby middle schools to promote the art programs offered at Midlothian.
As the students filed into the Commons, Co-presidents Paul Miller and Conan Darrah initiated the ceremony with a congratulatory speech for the inductees, recognition of the fellow officers and sponsors of the society, and an introduction for this year's speaker, Ms. Kate Carpenter. 
Every year, per tradition, the National Art Honor Society seeks a speaker to voice their experience in the arts, how it has shaped them, and what they have done or how they have lived their lives through their participation in the fine arts community. Graphic designer Kate Carpenter served as the 2019 speaker with over 15 years of real world experience in the field.  She detailed her specialization in branding, print, and web design for nonprofits and small businesses, while commenting on her appreciation of her daughter, Daisy Carpenter, for being a member of the society, and the encompassing message the society communicates towards budding artists. 
She went on to explain that "talent and hard-work are two separate entities, and if you have the drive, commitment, and passion of an artist, then the very mention of the word talent is obsolete. It's what artist[s] makes of [themselves] and the world around them that determines their true ambition; through the struggles and failures, the inspiration and creativity, the determination and unwillingness to settle, that's where the heart of an artist sprouts." She chose to speak to the NAHS participants because "more and more students are turning away from art in fear that they'll never 'make it' if they pursue their passion, that they'll never financially score if they choose to continue to do what they love, and I wanted to act as living proof that if a child, teenager, or even adult wants to work in the field of art, let them work in the field of art, and they'll surely make themselves proud of what they can accomplish. My philosophy is, if you work doing what you love, you'll never truly work a day in your life. If you have the flame of ambition to pursue art, do not let that fire dampen." As Carpenter's rousing advice, Vice President Emma Rice and PR/Media Head Fariza Kareem requested that the inductees stand and recite the chapter's pledge. As their names were called, each artist received lit candles, signifying their entrance into the society, while parents took photos and held bouquets of flowers. 
Once all the new inductees stood lining the front of the Commons, Rice congratulated, and subsequently consecrated, the members on officially becoming part of the arts society. With one last word from Darrah and Miller, recognizing the fellow officers and committee heads, Lily Anderson, Julia Hermanson, and Emily Merry, while also thanking the society's sponsors, Mrs. Marie O'Kleasky, Mrs. Nina Good, Mrs. Kristen Joswick, and Ms. Elizabeth Vesely, the induction came to a close.
2019 National Art Honor Society Inductees
Susannah Andress 
Max Atzinger
Hannah Beauchamp    
Amelia Bryans
Mia Calbreath
Kyla Carter
Rose Donohue
Lucy Edwards
Rosa Ferguson
Ashlyn Hanson
Ally Johnson
Isabella Lee
Gabrielle Leeper
Lanie Mahone  
Lorrin Mercer
Alexis Moore
Nicole Quiram  
Gabrielle Salomone  
Layla Shell
Savannah Stone
Nicole Suddreth
Ava Wladar 
Mackenzie Yates
About the Contributor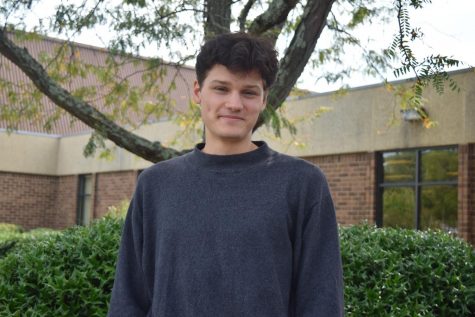 Conan Darrah, Copy Editor
Conan Darrah, Class of 2020