A True Masterpiece of a Night
On Tuesday evening, May 10, 2016, AP art students showcased their art to the Midlothian community in the Open Commons. With various styles and types, including mixed media, 3D design, photo, and graphics. Many parents, former students, and siblings came to admire the work that the art students, both juniors and seniors, have produced all year. Also during this event, many seniors reflected on their time in the Art Department at Midlo.
Senior Gabby Johnson emphasized how important Midlothian's Art Department and teachers helped her develop a personal style through assignments and projects. During her time at Midlo, Johnson focused her artistic efforts on photo and mixed media, going for a "loose sketchy feel for traditional art." "Midlo helped me reach my goal of JMU graphic design program, which is a strong arts program," said Johnson.
Senior Caleb Briggs, whose artwork, candid with no set style, was also on display in the art show on May 10, agrees with Johnson in that Midlo's art program was a big part of his high school career. "There's always an opportunity," said Briggs. "Teachers help you take an idea and help it come to fruition; the materials are always there." Briggs looks forward to going to William & Mary, furthering his academic career to go into the medical field some day. Though not necessarily pursuing art, Briggs does feel that the Midlo Art program has motivated him to continue his artistic passion. "W&M has a really good ceramics program, so I would really like to consider minoring in Fine Arts and working with those professors," says Briggs.
Both artists know that the Art Show is one of the final events of their Midlo art career, and both agree that they will miss the other artists at Midlo. "It's really humbling to see other artists who are incredibly well respected and really talented here at Midlo," said Briggs.  "We have a really tight community." Johnson has especially appreciated the inspiration she has received from fellow artists at Midlo, saying that, "It's cool to be around other artists. Seeing other art styles gives me the motivation and ideas for trying out different artistic styles."  Midlothian's Art program will miss its seniors, but it will most certainly continue to impress the Midlothian community.
About the Writer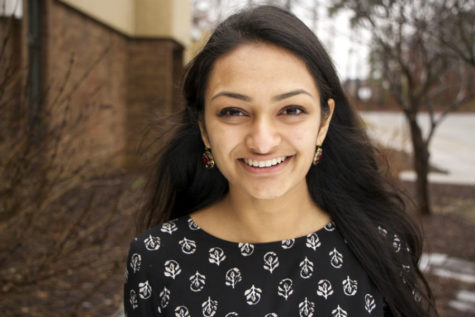 Neha Kulkarni, Midlo Scoop Staff