A Natural Artist Works with the Natural Human
Annabel Schepker: March NAHS Artist of the Month
At Midlothian High School, numerous artists express themselves through photography, paintings, writing, and any other art form. Through every pencil sketch and brush stroke, each artist makes their mark in the art world by using interesting materials and resources to illustrate a message from their minds. Each month, Midlothian High School's National Art Honor Society (NAHS) recognizes those artists with vibrant expressions in their artwork, such as Annabel Schepker, an artist who lets nature take its course and lets her writing utensil run free. Schepker uses her natural artistic gift and her freedom as an artist to the fullest extent, allowing her to create modern artworks with a scope of the human face and its natural characteristics. From this, Schepker spends her time making art that fits her personality and expressions of certain aspects of the world.
What is the message/theme or your art?
In the past, I've never had a certain theme for my artwork. I just kind of did what I wanted. This year after AP didn't work in my schedule, I decided to have a theme as AP required one. I'm in independent study, and this year's theme is portraits or the human face.
What is your inspiration?
I have a lot of inspiration from modern day artists who draw/paint people and the face. I really enjoy drawing humans, so looking at other people's work on Instagram is inspiring.
What is your favorite aspect of art?
I love the freedom you can have in art, and I love how people can express themselves in very different ways. You can tell a lot about a person through art. It's also peaceful!
How do you come up with new art? Do you have any special techniques you use to get out of artist's block?
Sometimes knowing what I want to draw comes naturally, depending on an art project theme, but most of the time, I actually have a very hard time coming up with something to draw, and I have to keep looking at inspiration.
Do you plan on continuing art in the future?
I do plan on continuing art in the future. I will probably keep it as a side job since I have been commissioned before for pet portraits.
Leave a Comment
About the Contributor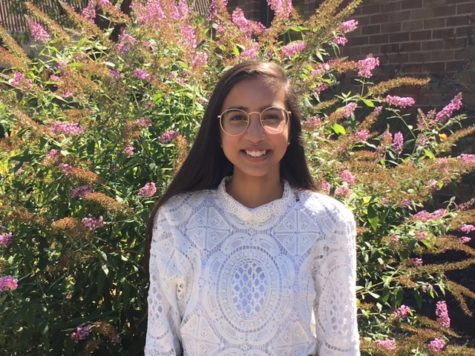 Nabiha Rais, Copy Editor
Nabiha Rais, Class of 2019