Knock Out Pins & Cancer at Strike Out Cancer
Strike Out Cancer Bowl America Tuesday, March 5, 2019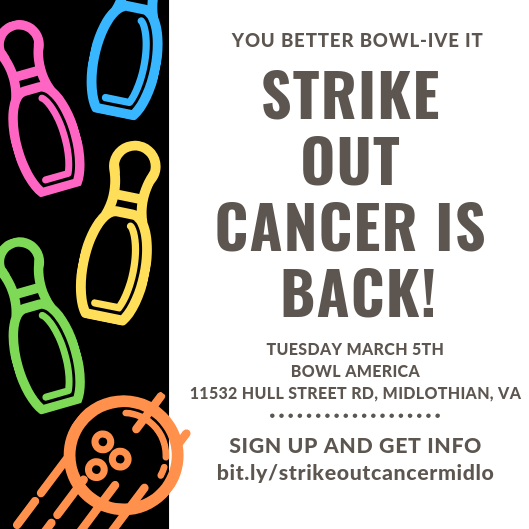 In the past few years, Midlothian High School's very own International Baccalaureate (IB) Program has pinned themselves as strong contenders at the annual Strike Out Cancer event. This week, those who interested in raising money for the cause can participate in the event. The IB Program will collect names from interested individuals to help knock out pins, opponents, and, most of all, cancer. See below for more information:
Hitting Cancer Below the Belt Inc. is a Richmond-based organization dedicated to colorectal (colon and rectal) cancer prevention. HCB2 provides community education, early detection services for the uninsured, and direct support services for patients and survivors. By hosting events and offering services, they are able to raise awareness, provide education, and raise funds for local efforts in cancer prevention. Visit their website hcb2.org for more information and pictures from past events. Ten teams of 6-10 bowlers from each school will compete at Bowl America on Tuesday, March 5th from 3:30 to 5:30 pm. (Bowl America Southwest: 11532 Hull Street Rd, Midlothian, VA 23112).
Since space is limited to the first ten teams to sign up, the IB Program and HCB2 encourage interested individuals to sign up this week to participate in the annual Strike Out Cancer event. The IB Program and HCB2 hope to see you there!
About the Contributor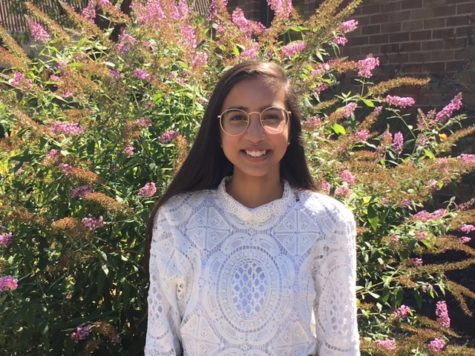 Nabiha Rais, Copy Editor
Nabiha Rais, Class of 2019