Field Hockey Advances to States After 16 Years
Midlo's Victory Over Powhatan Places Them in State Tournament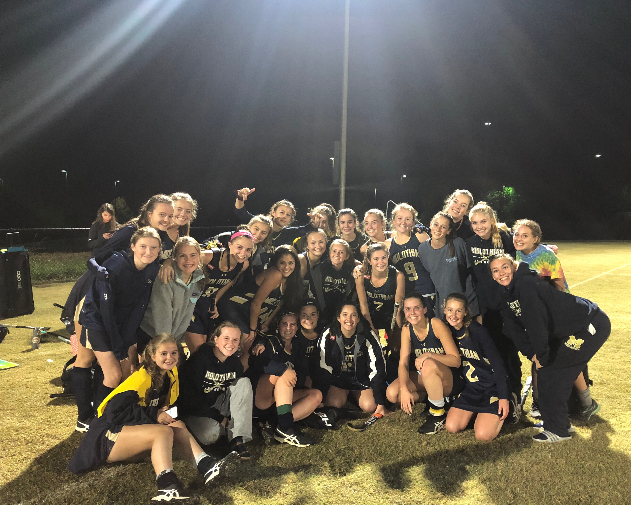 For the past 16 years, Midlo Field Hockey has fallen just short of States. On Tuesday, October 30, 2018, the team finally put an end to this drought as they won the second game in the Regional Tournament, securing their spot in States.
This feat did not come easily, as it took mountains of grit and determination for Midlo to make it this far. Prior to the Regional Tournament, the athletes came together under the lead of second year coach, Leanna Hall, and discussed what fueled them to fight for States. Not ready for the season to end, the team constructed goals to ensure that they play their best game. These objectives consisted of marking up, spreading out, and communicating.
Throughout the tournament, Midlo carried out these goals with each player contributing to make their wins possible. On Monday October 29, Midlo battled Lafayette High School on their home field. Lafayette proved both aggressive and speedy, but Midlo pulled together and held their ground, winning 2-0.
The second game took place the next day away against Powhatan on Tuesday, October 30. This game was much anticipated, as it was the deciding factor if Midlo would make it to States. This close to victory, Midlo fired each other up before the game. Coach Hall shared inspiring words as the team huddled up, saying, "I have no doubt in my mind that you guys can win."
In the beginning, both teams struggled to dominate, and by the half, the score rested at 0-0. Determined to pull ahead, Midlo finally got the ball to their offensive end, where a hard hit traveled to Kelly Livingston, who directed it to Riley Martin. Martin tipped the ball into the goal, bringing the score to 1-0. The Midlo sideline erupted into cheers as they gained a point on the Indians. For the rest of the game, Midlo brought the intensity and held up the competition and kept their lead until the very end.
As the whistle blew signifying the end of the game, Midlo athletes sprinted onto the field and hugged goalie Kelsey Seiler. The team felt full of emotion knowing that their hard work paid off, and they would advance to States. Reflecting on the win, Senior Maggie DeBruycker explained  "We did a good job getting into the mindset before the games and encouraging each other." Sophomore Martin added, "Their stick skills may have been better, but we played as a team, and that is what is going to get us far this season."
Midlo feels satisfied that after many years of coming close, they finally tasted the sweet victory of making it to the State Tournament. Next, the team will play an away game against War Hill on Thursday, November 1. Whether they win or lose will dictate the seed they will rival in the State Tournament, which will begin on Tuesday, November 6. Midlo Field Hockey hopes to make it far and finish the 2018 season with a bang.
About the Contributor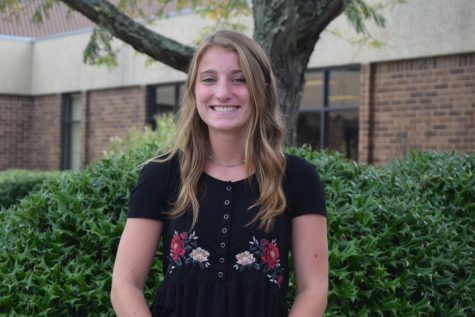 Maddie Burke, Copy Editor
Maddie Burke, Class of 2021