Fall Sports Gear Up for a New Season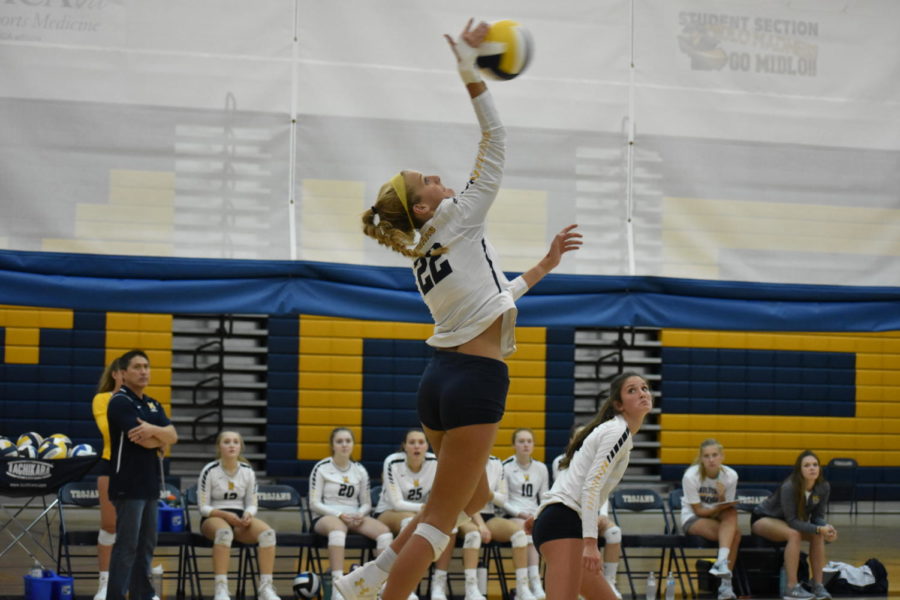 FIELD HOCKEY:
Under the lead of second-year coach Leanna Hall, Midlo Field Hockey has been working since tryouts in early August, preparing for what they hope will be a winning season. A new year brought with it the loss of treasured goalie Lindsey Merillat, along with experienced seniors, Megan Merillat, Katie Patrick, and Olivia Harriman. Stepping up as captains for the 2018 season include: seniors Zoe Hammond and Maggie DeBruycker and junior Liza Hopper. The team has started the season with a 3-1 record, with victories over Patrick Henry, Hanover, and Manchester, an overtime loss against rivals James River. Despite this recent loss, Midlo hopes to come back even harder. Captain Zoe Hammond shared her enthusiasm for her senior season, stating, "I'm very excited for senior night. The last home game is very bitter sweet, and you really see the team working harder than ever to make the seniors proud." Midlo field hockey hopes their hard work will pay off as they take on difficult competition in the following weeks.  
BOYS VOLLEYBALL:  
As the Midlothian Boys Volleyball Team return from an amazing season last year, battling their way into the state championship, the team sets up the nets to prepare for the 2018-2019 season.  Although the Trojans lost key senior Casey Branin, due to injury, the team looks to fill the void and push through without Branin's strong presence. The team has started the season with a 5-1 record and will compete on September 18, 2018, at George Wythe. Middle hitter Carson Parrish said, "I am excited for the new season and can't wait to see the progress we make." Junior starter Ethan Smith believes "this year will be a rebuilding year with a great outcome."
GIRLS VOLLEYBALL:
After a successful last season, the Midlothian Girls Volleyball Team gears up for the upcoming season. Unfortunately, the team lost two precious seniors from last season: libero Enjhalika Esmena and middle hitter Brooke Bailey. Throughout the ups and downs on the gym court, the girls have pushed themselves through all the sweat and pain. Starting the season with an impressive 5-1 record by beating their rival in the past game, going into 5 sets against Powhatan, the Lady Trojans plan to continue this momentum farther into the season. After suffering a tough loss against Hanover, they came back fighting with four more wins after the fact. Coach Chung believes that seniors Jessica Sullivan and Abbi Leeper will lead the team to a winning season.
CROSS COUNTRY:
As one of the most successful Midlothian sports programs, the Girls and Boys Cross Country Teams look to hit the ground running in their new season.  Despite losing several talented runners , such as Ashlyn Ferguson and BJ Beckwith, the new and experienced team looks to reach its goal of winning states. Returning to the trails are key seniors: Max Etka, Thomas Gray, Ian Gray, Andrew Steenkamer, Reed Shelor, Justin Elliott and Olivia Morris. Coach Stan Morgan's infamous quote, "Never quit, never ever quit," will hopefully inspire the teams as into their fall season. The next meet will be on Saturday, September 22, 2018, at RVA Relays in Mechanicsville, Virginia.
FOOTBALL:
Coming off a successful season, including a trip to the Regional Playoffs, the Midlothian Varsity Football Team looks to continue last year's momentum. "We are progressing every year, and our defense has been really good," says senior Tyler Pace. Beginning his second year as head coach, Matt Hutchings said, "The team can compete with anyone, but the only team we cannot control is our own. We have been stopping ourselves lately and need to get out of our own heads." On August 24, 2018, the Midlothian Trojans opened their season at home against the Rebels of Douglas S. Freeman, pulling off an impressive 17-7 win. The Trojans had not beaten the Rebels in 8 years, and "it was really exciting," said senior quarterback Frankie Falchi. This year,  senior captains, Brayden Staib, Neil Richburg, Tyler Moore, and Will Pomeroy, lead the Trojan Varsity Football team. The Trojans will play next on September 21, 2018, at home against the Manchester Lancers.