Midlo XC Team Takes On States
2017 State Cross Country Meet
On November 10, 2017, Midlo's Cross Country team competed in the VHSL Region 4A State Cross Country Championship at Great Meadows. This competition hosts the finest athletes in the state, and every competitor in attendance wants to win a state title. The meet challenged and pushed every athlete to their limits, forcing them to run up multiple hills and through a river, while enduring the 31 degree weather. Despite the immeasurable pain the athletes experienced, everyone left with many exceptional memories that will last a lifetime.
At 11:45 am, the starting gun sounded, and the Midlo Varsity Girls began their twenty-minute endeavor. The team consisted of: Caroline Bowe, Katherine Krievs, Ashlyn Ferguson, Chloe Martin, Annabel Schepker, Camryn Adams, and Eva Johnson. As the runners began the first mile, Schepker and Bowe stuck together, progressing rapidly through the packs of runners. Close behind, Krievs and Ferguson pushed, finishing the first mile in 6:08. The next 2.1 miles proved a test of strength, determination, and grit, for every step taken held importance. As the finishing line approached, Bowe used her speedy skills to fend off two competitors by a mere half-second, finishing in a stunning twenty-sixth place. Close behind, both Krievs and Ferguson sprinted past a competitor in the last fifty meters, finishing in thirtieth and thirty-second place. Next came Martin in fortieth, Schepker in fifty-first, and Adams in sixty-seventh. Johnson used her speed to finish in seventieth place, finishing ahead of a competitor by a mere second. Martin, a freshman, shares that her first states "was an enjoyable experience" and she looks forward to "continuing [her] running career during the indoor track season."
Shortly after the girls' race concluded, the boys race began, and the teammates determined to execute a race that would make Coach Stan Morgan proud. The team consisted of Max Etka, Andrew Steenkamer, Thomas Gray, Doug McCreight, Ian Gray, Kellan Nedwick, and Clay Robb. As the race progressed, Etka ran in the leading pack, fighting to earn an all-state title. Close behind, T. Gray, McCreight, Steenkamer, and I. Gray stuck together, using teamwork to push through the pain. Although every runner felt exhausted, the Midlo Varsity Boys pushed as hard as they could in hopes of finishing on the podium. As the finishing line approached, Etka gave it his all and finished in an extraordinary twelfth place, making him an all-state athlete. Close behind, Steenkamer used his speedy skills to fend off two competitors, finishing in thirty-third place; next came T. Gray in forty-first, McCreight in forty-seventh, and I. Gray in forty-ninth. Completing the race in sixty-first place, Nedwick sprinted down the chute, and Robb rounded out the formidable team with a seventy-sixth place finish. Etka, a junior, earned the title of all-state athlete, a great honor; he notes that it felt wonderful to "stand on the podium with friends."
Following the conclusion of the boys' race, the awards ceremony began. Unfortunately, neither team stepped onto the podium, but Etka earned a t-shirt and medallion for his twelfth place, all-state finish. Although major victories were not earned, every competitor represented Midlothian High School well.
About the Contributor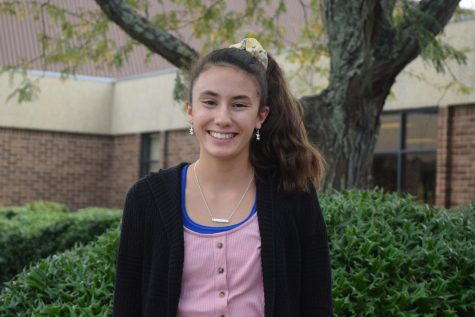 Katherine Krievs, Midlo Scoop Editor-in-Chief