8-Peat
Midlo Track and Field Claims 8th Conference Title
Seniors on Midlothian High School's track team know how to win. Over the course of the last four years, the 2017 class has never lost a conference track meet; they are 4-time indoor conference champions and 4-time outdoor conference champions. This domination of Conference 20, which is composed of 5 area schools Powhatan, Hanover, Dinwiddie, Monacan, Huguenot, can be contributed substantially to this year's graduating class, including: Court Warfield, Josh Rominger and Lucas Via on the boys' team and Madison Anderson, Daisy Hooper, and Patterson Levitch on the girls' side.
On May 16th and 17th, Midlothian High School competed in the 2017 Conference 20 track meet at Huguenot High School. On the first day, the Midlothian girls performed an impressive feat, winning 1st place in every single event on the first day of competition. Ashlyn Ferguson ran down a Hanover girl on the final lap of the 4 x 800 to claim 1st place in that event, while Erin Babashak and Addison Sanders took 1st in the jumping events. Lucas Via, Brayden Staib, and Tyler Gregory impressed in the long jump. However, Via was the lone boys' champion in the high jump on the first day.
When the second day of competition rolled around, Midlothian was poised to take home the trophy on both the boys' and girls' side. The ladies came in with a significant lead after an excellent 1st day, while the boys held only a slight lead on Dinwiddie. Madison Anderson boosted the girls' score with a 2nd place in the 200 meters and a first in the 400. Ashlyn Ferguson won the 800 as well.
After the 1st day, the boys needed points and found them in many of the long distance events. Court Warfield, Max Etka, and Joey Maguire gave the Trojans 23 points in the mile, along with Warfield taking the gold. He also would win the 800 and place 3rd in the 4 x 400. Other top finishers included Lucas Via winning the 400 and Max Etka winning the 3200.
As the meet dwindled down, the Trojans held a lead on both sides of the competition. Midlothian girls tallied a total of 221 points, which was over 60 points more than the 2nd place Hanover Hawks. The boys tallied 189.5, which was 55 points higher than 2nd place. Court Warfield went home with the Conference 20 Runner of the Year honors, and Erin Babashak won Girls' Field Event Athlete of the Year. Yet again, Midlothian Track and Field did not disappoint as the graduating seniors complete a 4 year sweep of both the indoor and outdoor Conference 20 Championships.
Leave a Comment
About the Contributor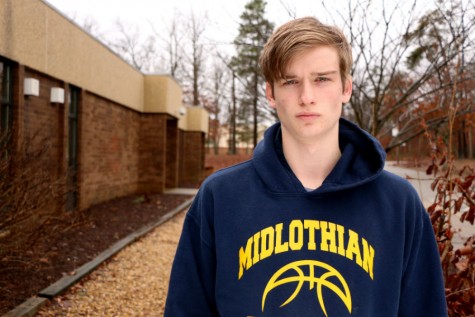 Lucas Via, Sports Editor
Lucas Via, Sports, Class of 2017