Game, Set, Match
Tennis Spotlight: Alex Knorpp
Hang on for a minute...we're trying to find some more stories you might like.
No matter the sport, no team is great without dedication from each and every athlete. Alex Knorpp, Midlothian's #2 Boys Tennis player, is the prime example of how this dedication translates to improvement. Alex, also referred to as "Queso" by many of his classmates, has moved up on the team's lineup from #4 his freshman year and #3 his sophomore year. Knorpp has had a passion for the sport since he began playing in seventh grade. "I was never really active when I was younger, and my mom hated when I played video games excessively," recalls Knorpp; "so one summer, she told me to pick out a tennis racket from the sport shop, and she put me in a private lesson at my country club.
Knorpp notes that when he first arrived at Midlo his freshman year, he had no experience playing on a tennis team. "Tennis is an individual sport, but the team taught me to how to be a team player.  Coach Brohl and the team taught me that when I go out on the tennis court, I don't just represent myself; I represent my family, my name, my teammates, and most importantly, the 'M' on my uniform." Jack Williams, Knorpp's doubles parter, is one of the teammates that he plays for. Knorpp explains that the two play well together because they know each other's strengths and weaknesses and enjoy each other's presence on the court.
With several USTA Tournament wins under his belt, Knorpp is sure to continue to thrive on Midlo's tennis team. However, no athlete can do it alone. Alex notes that he looks to his parents for inspiration, saying,"No matter how I play, they always believe in me on and off the tennis court." The junior will continue playing for Midlothian and his club team for the next few years with thoughts of potentially furthering his athletic career in college or beyond. For now, Alex hopes that the 2017 team will continue to improve and make it to states in June. "Tennis has given me the opportunity to improve not only my tennis, but to improve in every aspect of my life," says Knorpp; "thank you to everyone who has believed and supported me."
About the Writer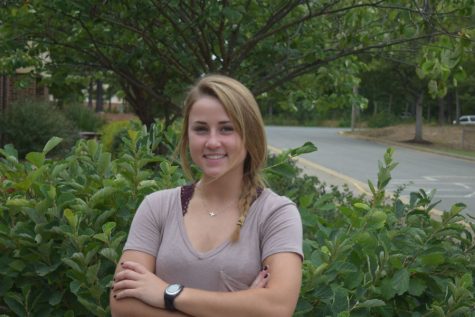 Lara Ann Douglas, Staff Writer
Lara Ann Douglas, Class of 2017