An Exhibition of Artistic Expression
Within the halls of Midlo, a number of brush strokes through paintings, along with shadows through photographs, circulate and flow throughout the school, all of which are created by Midlo's very own art students. Midlo art students tell their own stories through each tirelessly constructed masterpiece, canvassing their message perfectly. Although all art students have to dedicate themselves to their craft, Midlo's International Baccalaureate (IB) art students have to immerse themselves into their artwork for their IB exams in order to best demonstrate their true artistic ability. The IB art seniors Mukti Patel, Nupur Pandya, Anneke Craig, and Grace Kim exemplified their artistic ability clearly through their precise sculptures and detailed paintings. The artwork created by these IB seniors were displayed at the International Festival and are currently on display in the library; the exhibition of their artwork shows the great deal of effort, time, and diligence they have put into their artistic expressions.
The artwork by IB senior Mukti Patel demonstrates her powerful connection to her South Asian roots and her Western upbringing. Patel's artwork portrays her experimentation with different mediums, such as photography and other craft-based materials. "Majority of my works are an attempt at photo-realism (or just realism in general) that involved careful planning and tedious detail; however, I have a few pieces that were created on a whim; they were based on how I felt the movement of the piece," explained Patel. Patel's principle message of her artwork combines her Hindu roots and her life in the Western world, which allows her to demonstrate the most accurate reflection of herself through her consistent devotion to religion and life.
The artwork by IB senior Nupur Pandya expresses her focus on Realism. Pandya's artwork portrays her interest in numerous art movements, such as Impressionism, Realism, and dreamlike art. In order to demonstrate her artistic focus, she uses "different materials and layers them on top of one another to create a broader, better piece of work." Pandya's message of her artwork demonstrates her strong interest in Realism in both the real world and the imaginary world, allowing her to explore the in-depth aspects of life.
The artwork by IB senior Anneke Craig shows her interests in 3D art and mixed media pieces. Craig's artwork gravitates towards her use of a variety of materials, ranging from oil pastels to Mod Podge. While Craig creates her masterpieces, she does not carry as much stress as others. Instead, she thinks of art as a "meditative exercise," which allows her to efficiently express the ideas and messages in her head. Craig's essential message of her artwork deals with individuality, specifically feminine identity and natural connections, which allows her to express her affection and perspective on humanity in our world today.
The artwork by IB senior Grace Kim focuses on Surrealism, specifically through still life paintings with colors solely on the gray scale. Kim's artwork portrays her attention to colorless paintings and sculptures based on her liking. "I do my own thing; it is the best way to learn about the art world, and it gives me the opportunity to do anything I want with what I have learned," says Kim. Kim's message of her artwork expresses her love of simplicity and beauty, the simplicity of the colors on the gray scale, and the beauty of objects through still life.
The IB art seniors demonstrated their capabilities in the art world through their commitment, dedication, and devotion to their craft, which clearly shines in their pieces. Their artwork not only exemplifies their artistic ability, but it also exemplifies who they are and their expressions on people and life, which is what the art world commemorates daily.
About the Contributor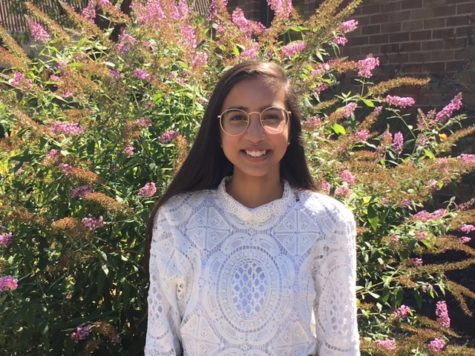 Nabiha Rais, Copy Editor
Nabiha Rais, Class of 2019