Junaid Spotlights Social Expression & Stigmas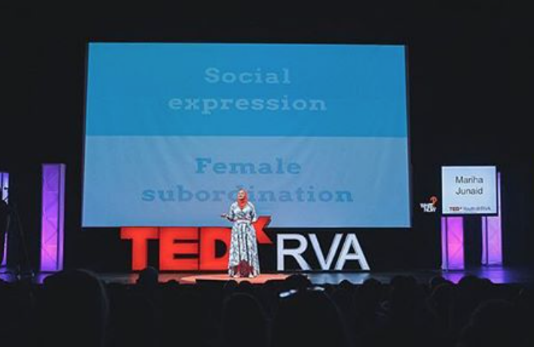 TEDxYouth is a TED-style international event that focuses on young-minded ideas and elevates them on a global stage. The event recognizes the stories of young people who have taken the first steps to life and have the tenacity to keep going. On Saturday, November 19, 2016, Midlo senior Mariha Junaid spoke at the [email protected] event at Collegiate School. Junaid delivered her speech, "The Hijab: A Way of Life," expressing her experience with the stigmas attached to wearing a hijab. As a hijabi herself, she manages the social oppression and female subordination she experiences regularly.
In a globalized world, integration of cultures becomes more and more prevalant. In her spare time, Mariha has a passion for delving into topics most politicians dread. She has an interest in individuals who have faced wrongful oppression due to cultural and social biases. The hijab, however, proves an integral and passionate topic for Junaid, as it represents the cultural and religious identity she holds dear. The hijab, an article of clothing most women who practice Islam wear, is more than just an article of clothing to Junaid. The act of wearing a hijab is her way of life.
Growing up listening to TED Talks, Junaid has drawn inspiration from the power and fluency of the speakers who have shared their stories with the world. Junaid said, "It became one of my goals in life to be able to stand on that red dot and tell the world my story." Taking the opportunity to speak her mind about her challenges while staying true to her identity has fulfilled one of her lifelong goals. "Having the platform to change how [others] percieve something as simple as this hijab originally felt like a burdening responsibility, but as the event approached, the platform that originally felt like a burden became a gift; it was breathtaking," she explains.
Junaid's positive impact on her audience has enhanced the power of her message and hopefully opened minds, leaving a significant mark and advancing her worthy cause of acceptance. 
About the Contributor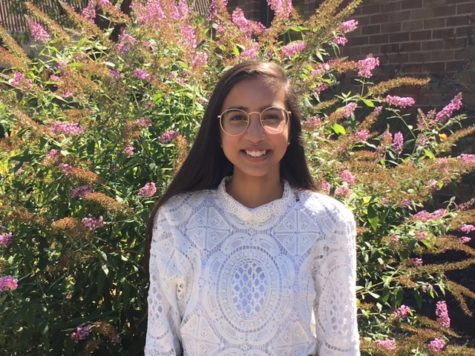 Nabiha Rais, Copy Editor
Nabiha Rais, Class of 2019