La Cultura y Arte de Española en Distrito de Columbia
Connecting with artists and their lives through artwork is an essential factor to enhance imagination, creativity, and inspiration. In order to attain a new perspective of the art from Spain, Spanish teacher Sra. Travis Jimenez and International Baccalaureate (IB) Spanish IV, V, and VI students connected with artists and their artwork at the National Gallery of Art Museum in Washington, D.C., on Tuesday, November 15, 2016. After obtaining more insight on Spanish artists, the IB students feasted on a three-course meal, courtesy of Jaleo Restaurant by José Andrés, an authentic Spanish restaurant. 
From Pablo Picasso to Salvador Dalí, the students toured the museum and learned more about different artists and their way of living through their art. As the tour continued, the students viewed artistic styles from both the artists they observed and the architecture they witnessed at the National Gallery of Art Museum. Junior Milleena McNeil reacted, "Seeing the sculptures hanging from the ceiling and walking through the light tunnel was one of the most interesting parts of the whole trip." The tour of the museum not only provided the students a better understanding of Spanish art, but it instilled a deeper meaning of the works of art.
While they found the artwork breathtaking, their trip to Jaleo Restaurant by José Andrés emerged as a true highlight.  Students devoured a variety of three-course meals the second the plates hit the table. "Trying tapas for the first time at the restaurant was really interesting and definitely memorable," said junior Christina Ju. Multicolored ceilings, artwork on the walls, and prominent sculptures encircled the restaurant and caught the eyes of many students. Both the abundance of beautiful artwork around the restaurant and the authentic, mouth-watering Spanish meals proved unforgettable and remarkable for the students.
The trip to the National Gallery of Art Museum made the students more appreciative of art and left them curious about the life of the artists and the meaning behind the artworks. That appreciation and curiosity continued at the Jaleo Restaurant by José Andrés, where the students learned more about true Spanish food and modernized Spanish art. All aspects of the memorable trip offered students more knowledge of the artistic culture of Spain.
About the Writer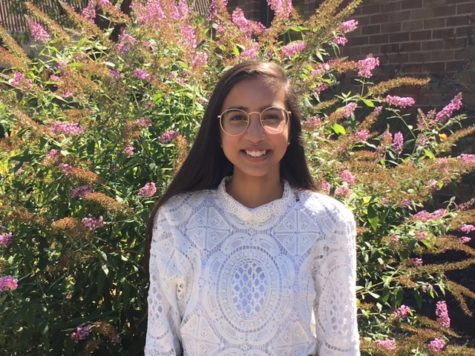 Nabiha Rais, Copy Editor
Nabiha Rais, Class of 2019