Midlo royalty hits the dance floor
While Midlo students as a whole inch closer and closer to the end of the school year, upperclassmen took part in one last hoo-rah at prom.
Held at the Chesterfield Technical Center, students arrived on Saturday night dressed head-to-toe in flashy outfits. Many wore floor-length gowns that sparkled under the dance floor's spotlights, while others wore clean-cut suits and ties.  
After check-in, students rushed into the Tech Center ballroom, where they were greeted with flashing lights, booming music, a photo booth and tables overflowing with snacks. The dance officially kicked off at 8 p.m. sharp with the D.J. spinning hot hits, causing students to immediately race to the dance floor upon arrival.
After a few hours of students dancing and mingling, Mr. Timothy Johnson signaled for the crowd to clear the dance floor as the 2022 Senior Prom Court would begin.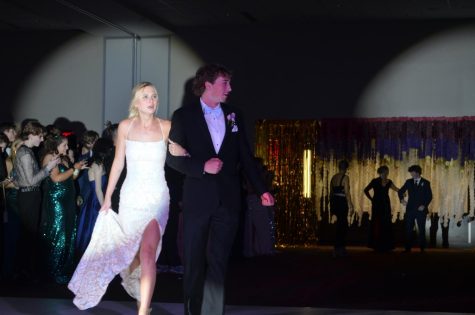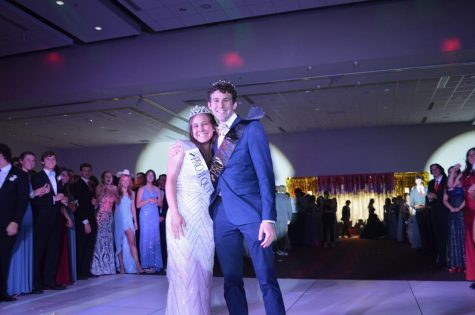 After all of the Prom Court and their escorts were announced, Dr. Shawn Abel took the mic to announce the much anticipated Prom King and Queen. As the crowds grew quiet, Samuel Huff and Lauren Cassano heard their names announced as prom royalty. Students cheered as Huff and Cassano made their way to the dance floor with their dates and led the first slow dance of the night. The rest of the couples joined them for a memorable turn around the dance floor.
The night continued with more dancing, cheering, jumping and excitement.  Many students took advantage of the photo booth, put together by the SCA along with the cornucopia of chocolate chip cookies, brownies, charcuterie, and endless candy. Prom ended around 11 p.m. with a classic final singing of Sweet Caroline.  Afterward, students made their way to post-prom, which was held at the school.  There, students spent the night singing karaoke, playing laser tag and inflatable jousting while enjoying plenty of snacks. In the end, Prom 2022 proved to be a memorable Midlo event after nearly two years of no prom.
2022 Prom Court
Ashley Sowers – Girls Volleyball
Nicole Quiram – Latin Club, English Honor Society and Girls Outdoor Track
John Laser – Boys Outdoor Track 
Emily Nugent – Paws for a Cause
Molly Goecker – Yoga Club
Jack Scott – Boys Baseball
Emma Keister – Young Adult Book Club
Madeline Dubois – Girls Outdoor Track
Samuel Huff – National Honor Society
Lauren Schmidt – Rho Kappa Honor Society
Armani Hinman – Boys Indoor Track
Lucy Edwards – Yearbook
Courtney Coppage – Quill & Scroll
Jackson McCarthy – Boys Swimming
Ellie Herndon – FBLA  
Cassie Grizzard – Softball
Lana Montz – Girls Basketball  
Lauren Cassano – Midlo Scoop
Paige Durrette – Cheerleading
Joe Gordon – Baseball
Delaney David – Writer's Guild
Anya Varkey – Dance Team
Matthew Bishop – Boys Soccer
Erica Hidinger-Wood – IB Student Council  
Megan Coppola – DECA
Mackenzie Yates – National Art Honor Society
Kaitlin Brown – Girls Swim Team 
Leave a Comment
About the Contributors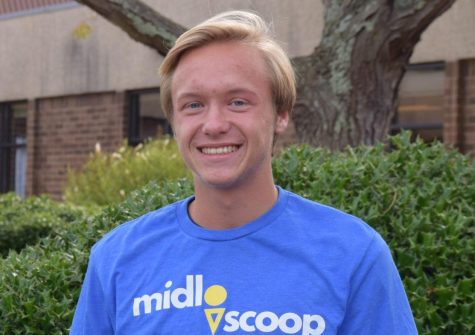 Kyle Reeder, Multi-Media Editor
Kyle Reeder, Class of 2023

Kyle Reeder has been on staff for four years and is the Multi-Media Editor. Outside of school, he runs cross country and...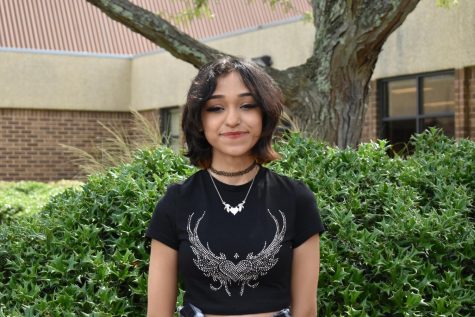 Nikki Abbas, Midlo Scoop Staff
Nikki Abbas, Class of 2023

For junior, Nikki Abbas, writing for the Scoop is a first. She enjoys learning to write and cover student life and midlo-happening...