A new face emerges in journalism
Māori journalist is first person with traditional facial markings to appear on prime time news
On Christmas Day 2021, as New Zealanders switched on their televisions to watch prime-time news, they also were about to witness a historic break in the barriers of traditional broadcast journalism. Audiences around the nation were greeted by a beaming Oriini Kaipara, but it wasn't only her smile that captivated viewers: it was the intricate tattoo she wore beneath her smile. On that night, after nearly twenty years in broadcast journalism, Kaipara became the first person ever to present prime-time news with visible Māori facial markings. This was the "pinnacle" of her journalistic dreams, she later said.
The Māori people are indigenous to what is now New Zealand, and facial markings are a major piece of their complex and beautiful culture. Above all, facial markings serve as the most visible expression of Māori identity. This tattoo practice is referred to as Tā Moko, which is commonly performed on the face or head as it is a cultural belief that the head is the most sacred part of a human's body. Māori women traditionally have markings on their lips, chins or necks, while the men traditionally have markings covering more of their faces, as well as their buttocks and thighs. The meaning of these intricate tattoos vary from person to person, but could represent their life story, social status or loyalty to their tribe or ancestors.
Kaipara received her tattoos three years ago after learning from an Ancestry test that she is genetically 100% Māori. Her moko is a reminder of her strength as a Māori woman and she believes the tattoo ties her to not only her ancestors but all Māori women.
"
When I doubt myself, and I see my reflection in the mirror, I'm not just looking at myself. I'm looking at my grandmother and my mother, and my daughters, and hers to come after me, as well as all the other women, Māori girls out there and it empowers me."
— Oriini Kaipara
Throughout her career, Kaipara has placed great importance on sharing her culture through journalism. With this, she focuses on the reclamation of the Māori language. Often in her presenting she uses common Māori phrases, such as "E haere ake nei" (still to come), "Ū tonu mai" (stay with us) and "Taihoa e haere" (don't go just yet).
Kaipara's prime-time debut occurred a little more than a year after the appointment of Nanaia Mahuta, the first Indigenous Prime Minister of New Zealand. In 2016, Mahuta became the first female member of parliament to wear moko on her lips and chin. She has written that these tattoos offer "positive ways to enable cultural expression and pride in being Māori," and has been a trailblazer for Māori people throughout her career.
The rise of public figures proudly donning these markings has actively created more representation and opened more opportunities for Māori people in all aspects of society, both inside and outside of New Zealand. Kaipara believes that her story is a sign that times are changing, so she hopes to impact younger generations of Māori women.
"
For a long time our people, our ancestors, our tipuna, and us now, have done so much work to get to where we are. As a young woman, as a young Māori, what you do today influences and affects what happens tomorrow. So all I ask is that they see the beauty in being Māori and they embrace it and acknowledge that and do what they can with it for positive change."
— Oriini Kaipara
Over the years, many news outlets have come to adopt the idea that sharing and embracing diversity in journalism is an important part of the evolution and development of the field as a whole. Therefore, Kaipara's actions to represent her people will undoubtedly leave a mark in the future of journalism as she paves the way for many to come.
Leave a Comment
About the Contributor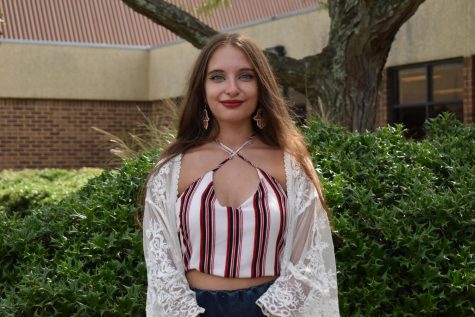 Avery Belisle, Midlo Scoop Staff
Avery Belisle, Class of 2023

For Junior Avery Belisle, writing for Midlo Scoop is a first.  She enjoys highlighting unique cultural practices and different...