Georgia wins the National Championship trophy
University of Georgia Wins 2022 NCAA Football Championship Game
During the 2022 College Football Playoff National Championship, the number three seed Georgia Bulldogs, led by Head Coach Kirby Smart, battled the Alabama Crimson Tide who came in seeded at number one under the leadership of Head Coach Nick Saban. Taking place on Monday, January 10, both of the high achieving teams traveled to the Lucas Oil Stadium in Indianapolis with their sights set on winning the coveted National Championship trophy.
The match-up came after Georgia fell short in the 2021 SEC Championship game against Alabama 41-24, so the Bulldogs were determined to come out on top this time around. Additionally, the game also marked the first time since 1980 that the University of Georgia football team would be playing in the National Championship game.
To start the game off, the Bulldog's kicker Jake Camarda sent the ball 64 yards inside of Alabama's territory which led to a five-minute drive and an Alabama field goal. After Alabama's drive, their defense was in full swing, forcing a three and out while subsequently forcing the Bulldogs to give it back to their offense. The game soon turned stagnant as both teams struggled offensively and were incapable of sustaining a drive.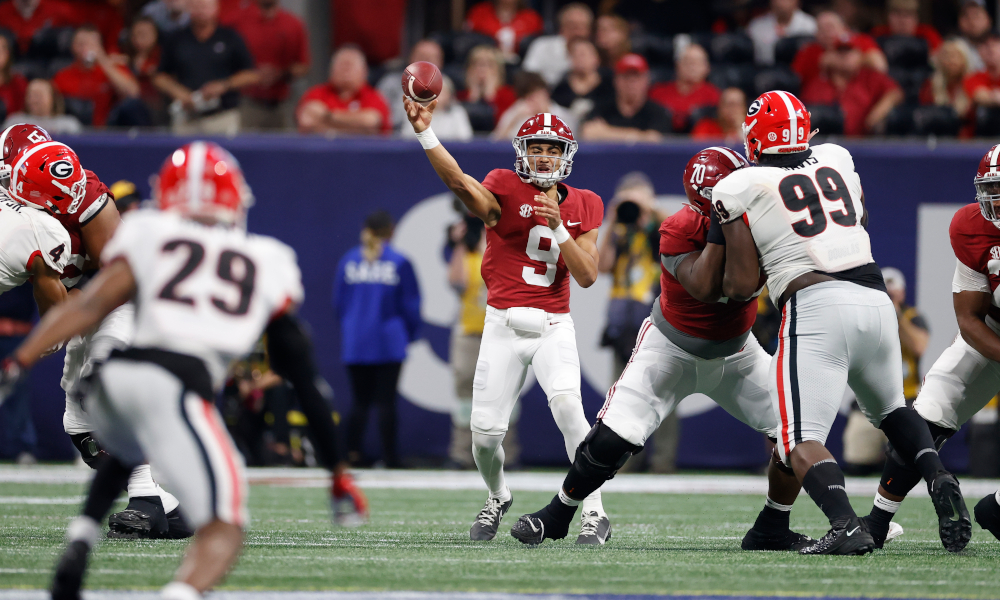 After a lackadaisical first quarter, the Bulldogs came back on the field in the second quarter to finish their drive that began with 3:20 left in the first quarter. Georgia had an eleven-play drive that resulted in 87 yards; 52 of those yards came from a pass connection by Stetson Bennett and George Pickens. However for Georgia, this didn't result in seven points; instead, they had to settle for a 24 field goal inside the ten-yard with 12 1/2 minutes left in the first half. Alabama would then get their offense back on the field to try a force a tiebreaker with their first offense possession of the second quarter. Bryce Young, Alabama quarterback, and this year's Heisman Trophy winner, started the drive with a 40-yard pass completion to Jameson Williams. This put Alabama in Georgia's territory at the 35-yard line. Despite that big play downfield, their offense following that was stagnated due to Georgia's defensive consistency and pressure that they put on Alabama's offense. Fortunately for Alabama, the positive outcome from this drive was that they were able to break the tie with a 45-yard field goal made by Alabama kicker Will Reichard, making the score 6-3 with 11:13 remaining in the second quarter. Subsequent to Georgia three and out, Alabama would get the ball back with nine minutes left in the first half in an attempt to maintain momentum. Alabama's quarterback Bryce Young had a great start to the possession, completing a five-yard pass, then a 61-yard pass connection to Alabama tight end Cameron Latu.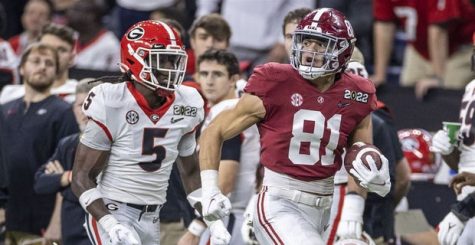 This put Alabama in a great position to score as they were inside of Georgia's territory at the 31-yard line. Alabama would eventually make the score 9-3 after a field goal; due to an incomplete pass and a sack by Georgia's linebacker Channing Tindall. With seven minutes remaining in the second quarter, the Bulldogs started their second possession of the quarter hoping to apply some pressure on Alabama's defense. Georgia throughout this drive focused on trying to put points on the board to shrink the lead; for that reason, their offense was able to get to Alabama's 31-yard line and convert on a 49-yard field goal, reducing Alabama's lead from six points to three. With halftime approaching after a forced punt by Alabama, both teams were looking to improve offensively after their defense and special teams ran the show in the first half.
As the game resumed, Alabama kicker Will Reichard launched the ball 65 yards into the endzone for a touchback, giving the Bulldogs an opportunity on offense.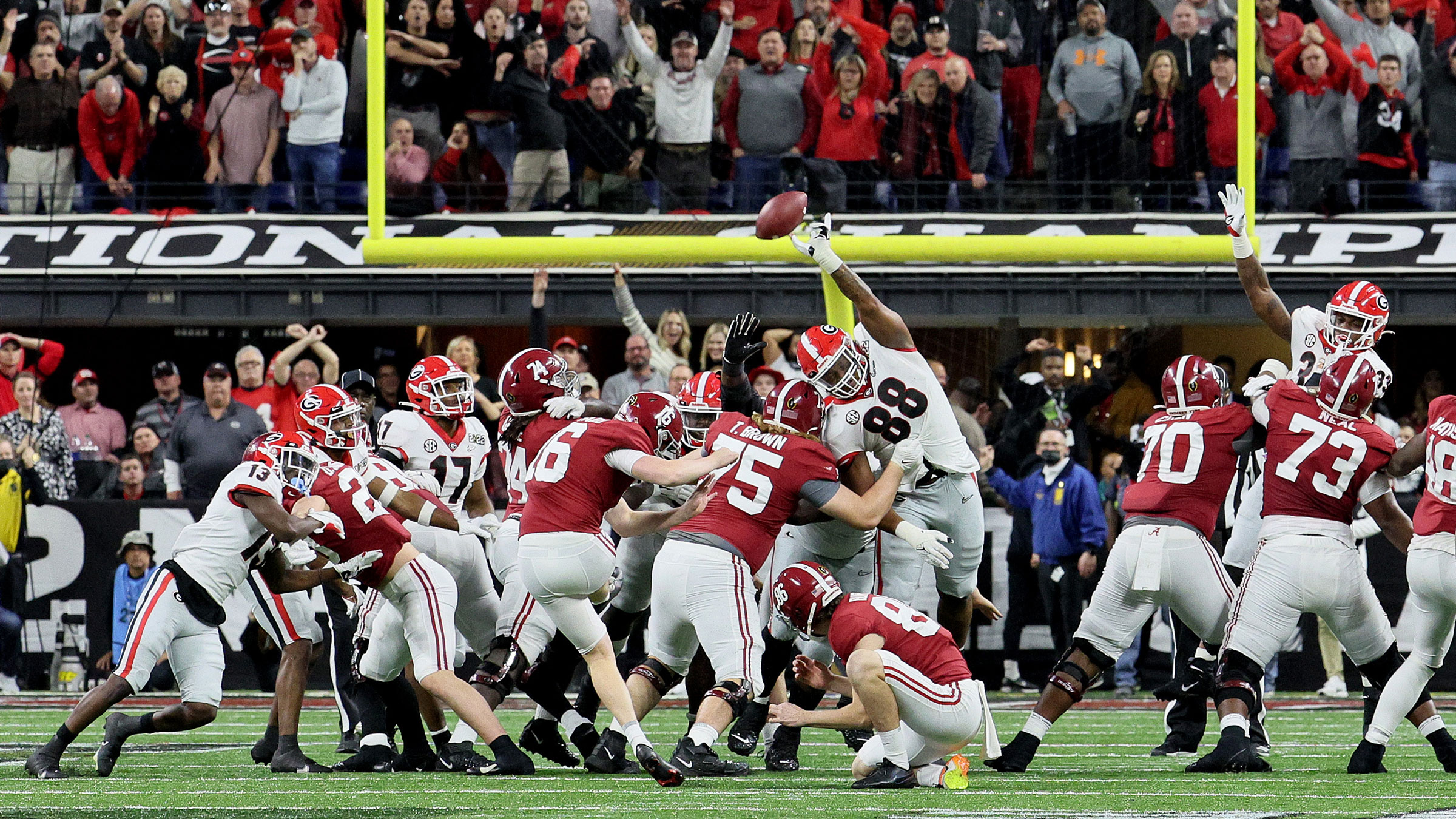 Georgia, after a rough start to the game offensively, had two rushing plays for over 30 yards to set the initiative for the third quarter. They would eventually have to punt again; however, Georgia's next two possessions were impressive on defense and special by forcing an interception along with a blocked field goal. The Bulldogs, after two excellent defensive possessions, would start off the drive with a 67-yard burst by running back James Cook; putting them in the red zone for an opportunity to score their first touchdown of the game. Subsequent to the 67-yard run, Georgia would score a rushing touchdown at the one-yard line courtesy of running back Zamir White, giving the Bulldogs a 13-9 advantage following the extra point. As both teams headed to the fourth quarter, Georgia attempted to maintain their lead while Alabama tried to make the proper adjustments, hoping to get back into the contest.
With the fourth quarter underway, Alabama finished their first possession of the fourth quarter with a ten-play, 72 yard drive resulting in a 21-yard field goal by Alabama kicker Will Reichard with thirteen minutes left in the game. Alabama then forced a game-changing play defensively with a sack and fumble by linebacker Christian Harris, resulting in a pass touchdown by quarterback Bryce Young completed to tight end Cameron Latu for a three-yard touchdown. With the momentum shifting back to the Crimson Tide with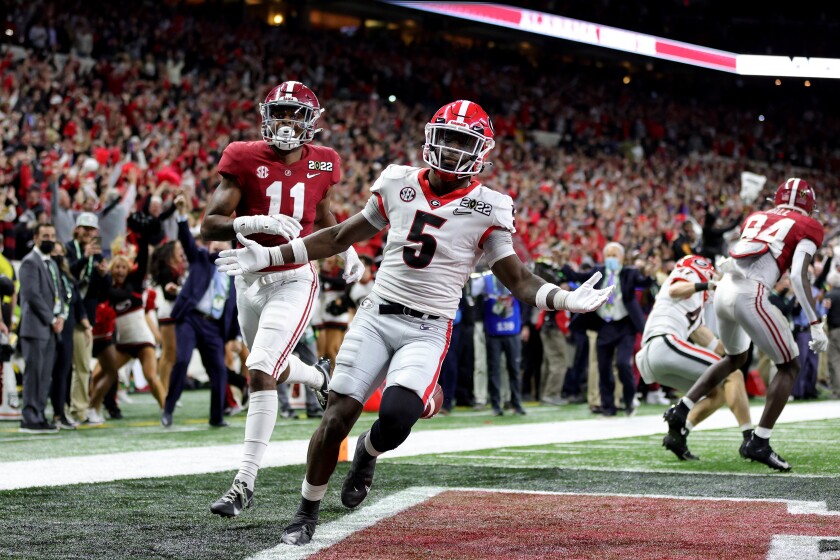 an 18-13 lead, Georgia immediately scored on a 40-yard pass connection from quarterback Stetson Bennett and wide receiver Adonai Mitchell. With the score now 19-18 in favor of Georgia, Alabama would find no progress offensively on all three downs. Ultimately, Georgia would not only score a 15-yard pass touchdown, but they would close the game out with a 79-yard interception touchdown by defensive back Kelee Ringo, giving Georgia their first National Championship since 1980, with a 33-18 victory over Alabama.
Georgia would finish the season 14-1, overcoming major adversity and showing their resilience and confidence following a 41-24 loss to Alabama in the SEC Championship game. With both Alabama and Georgia being the face of the Southeastern conference for years to come, fans expect excellence moving forward from both programs.
Leave a Comment
About the Contributor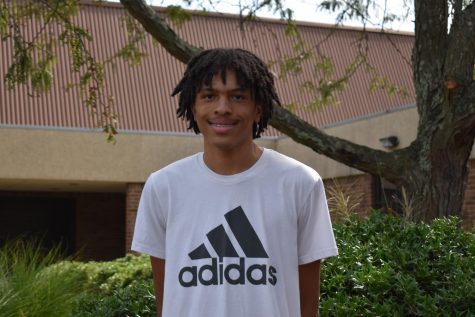 Huntur Brockenbrough, Sports Editor
Huntur Brockenbrough, Class of 2024