5 spooky recipes for Halloween
As the temperatures drop and the leaves on the trees turn orange, the perfect time has come to cozy up with a warm mug of apple cider, or indulge yourself in a pumpkin-spice cookie.  In this season of dressing up and trick-or-treating, the best way to celebrate is through creating delectable Halloween treats for all to enjoy.
Apple Cider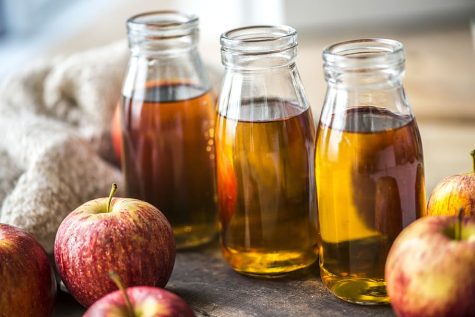 For the perfect drink to pair the chilly October weather, try this simple apple cider recipe made with a simple list of ingredients that can be enjoyed by the whole family.
Ingredients:
1 Gallon of chilled apple cider

Cinnamon, nutmeg, orange spice,  or other spices of your preference 

1/4 cup brown sugar
1) Heat up a gallon of cold cider on the stove at a low simmer.
2) Add needed measurement of brown sugar to the pot and stir.
3) Let simmer for an hour, stirring regularly.
4) Pour into your favorite mug and garnish with a cinnamon stick to enjoy.
Editor's Note:
Feel free to add in any spices, extracts, or fruits of your choice.
Ghostly Nutter Butters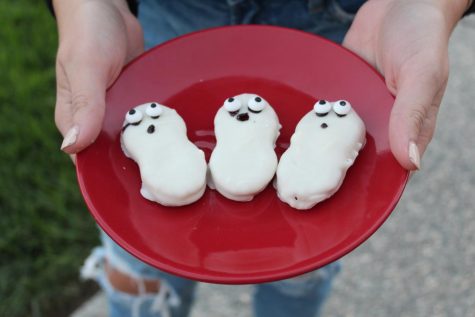 For the perfect Halloween party favor or a spooky snack, try these D.I.Y. Nutter Butter ghosts. With the ultimate peanut butter and chocolate combination, these chocolate ghosts won't fail to impress your friends and family.
Ingredients:
1 box of Nutter Butters

White Chocolate chips

Black Gel Icing
1) Start by melting white chocolate over the stove at a simmer. Continuously stir the chocolate, making sure it doesn't burn.
2) One at a time, dip your Nutter Butters into the melted chocolate, coating every side in the white chocolate.
3) Set on parchment paper and allow chocolate to set in the fridge.
4) After the ghosts have cooled, use black gel to draw your own unique faces of your choice!
Editor's Note:
When dipping the ghosts in chocolate, a technique we used was lowering the Nutter Butter on a fork and then dishing it out with the same fork to coat the ghost evenly.
A tropical take on Halloween: Spooky Key Lime Pie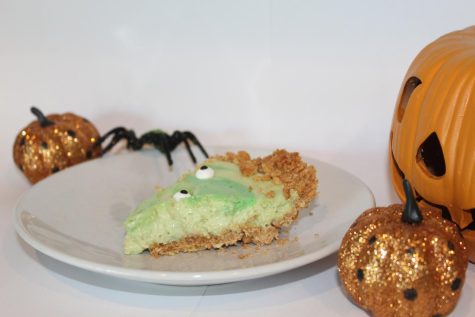 Despite the browning leaves and drop in temperatures, the essence of summer is still present in this tropical dessert, but with a spooky twist. Enjoy this carefully stirred pie, mixed with an oozy green filling that is topped with creepy-crawly eyeballs. 
For the pie crust:
One box of graham crackers

5 tablespoons of butter (melted)

⅓ cup sugar
For the filling:
2 teaspoons of lime zest

⅔ cups lime juice 

3 egg yolks

1 can sweetened condensed milk
Directions
1) Preheat the oven to 350 degrees.
2) Empty the graham crackers into a gallon plastic bag, then break the graham crackers to a fine powder.
3) Add the graham crackers into a large bowl, followed by the melted butter and sugar.
4) Line the bottom of a pie dish with the graham cracker mixture and bake for 8 minutes until set.
5) While the crust is baking, add lime zest and egg yolks together into a mixing bowl.  Mix for about 5 minutes until the mixture becomes fluffy.
6) Gradually add the condensed milk, mixing for 3-4 minutes until thick
7) Add the lime juice, mixing until combined.
8) When the crust is done, add the pie filling and set in the freezer until ready to serve.
Editor's Note:
When making the crust, start with only crushing about half of the graham crackers. Fill the pie dish with those and then see if more is needed. We found that we had at least half a box left.
Pumpkin Cookies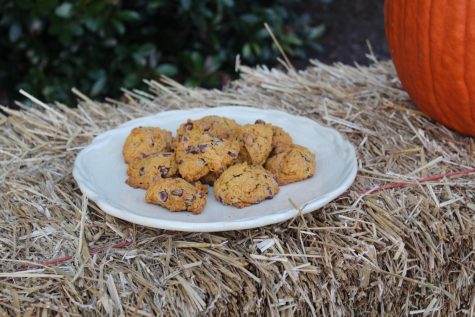 These warm and yummy Halloween cookies are sure to please everyone looking for a quick fall snack. With a baking time of about 15 minutes, pumpkin cookies are an easy go-to.
Ingredients:
¾ cups pumpkin puree

1 tsp pumpkin spice

2 ¼ cups all-purpose flour

1 teaspoon baking soda

½ teaspoon salt

2 sticks of unsalted butter, softened

¾ cups brown sugar 

½ cup granulated sugar

1 large egg

2 teaspoons vanilla extract

2 cups chocolate chips
Directions:
1) Preheat oven to 375 degrees.
2) Line baking sheet with parchment paper.
3) In one bowl, whisk together flour, baking soda, pumpkin spice, and salt.
4) In another bowl using a mixer, cream together butter and sugar until light and fluffy. 
5) While continuing to mix, add in pumpkin, egg, and vanilla extract. Then add flour mixture.
6) Once it has been mixed all together, fold in the chocolate chips and then refrigerate dough for 30 minutes.
7) Once you take the dough out, scoop into balls and place them on the baking sheet.
8) Bake in the oven for approximately 12 minutes, while checking to make sure they are puffed up and golden before removing from oven.
Editor's Note:
If you want your cookies to form into more of a scone shape, leave out the brown sugar from the mixture.
Pumpkin Seeds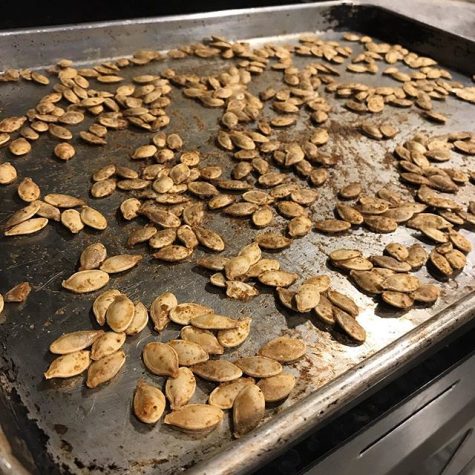 To accompany a refreshing glass of Apple Cider, get to carving and try making your very own home cooked pumpkin seeds. The crispy taste of well-cooked seeds, seasoned with an assortment of fall spices are sure to tingle your Halloween senses.
Ingredients:
Cleaned Pumpkin Seeds (Desired Amount)

1 tablespoon Olive Oil 

Garlic Powder

Pepper/Salt
Paprika
Directions:
1) Preheat oven to 350 degrees.
2) Put the seeds in a bowl and season with spices of your choice. Then add olive oil, salt, garlic powder, paprika, and black pepper. 
3) Spread the seeds onto a tray and place them in the oven for 12-15 minutes, tossing them about every 5 minutes.
Editor's Note:
Be sure to keep a watchful eye on the pumpkin seeds as burning can occur very easily.
Leave a Comment
About the Contributors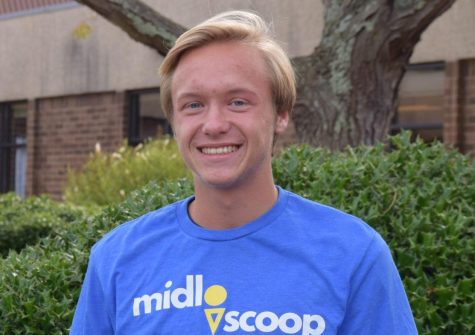 Kyle Reeder, Multi-Media Editor
Kyle Reeder, Class of 2023

Kyle Reeder has been on staff for four years and is the Multi-Media Editor. Outside of school, he runs cross country and...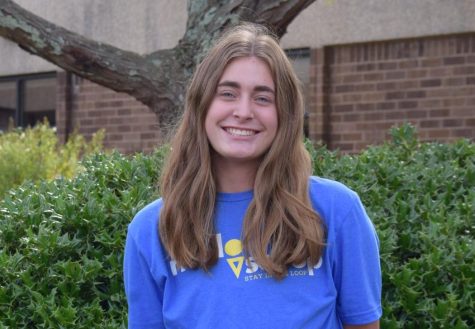 Caroline Kidd, News Writer
Caroline Kidd, Class of 2024

Caroline Kidd has been on the staff for three years and is a news writer. Outside of school she enjoys playing tennis and...