Rising up to senior year
Class of 2022 Convocation
Despite the gloomy day with scattered showers throughout the area, the Class of 2022 arrived at school last Thursday buzzing with excitement. Dressed in formal attire, students proceeded to their first-period classes. Eventually, a voice echoed over the intercom calling all seniors to the new gym, where their Senior Convocation awaited them. September 9, 2021, marked a day of encouragement and well-wishes as seniors prepared for their final year at Midlo.
Principal Dr. Shawn Abel initiated the event, welcoming and congratulating the seniors on having made it to their final year of high school. He offered the students tokens of advice that they could take with them as they navigated their new position as role models to the grades below.
"Remember to leave this school a better place than when you first arrived, which is something I believe that all of you have the power to do," Abel said when addressing the class. 
After the warm regards, he handed over the microphone to the Senior Class Co-Sponsors, Ms. Elizabeth Boese and Ms. Lisa Hudgins, both of whom expressed their excitement for the year ahead. The pair then introduced the Senior Class Officers, which are President Eliza Adamik, Vice President Alex Walker, Vice President of Records Bridget Tracy, Vice President of Public Relations Emma Precopio and Community Service Coordinator Parker Gilmore. Throughout the school year, the elected leadership team will work diligently to provide their classmates with an unforgettable senior year.
"As a senior officer, I am looking forward to planning events for my class and giving students the opportunity to have the best year possible after being away from one another for so long," Precopio said. "It was so special finally being able to have the chance to be back with everyone at Convocation!"
Class President Adamik then made her way to the podium where she introduced guest speaker Shayy Winn, a resident of Chesterfield County who possesses both an incredible gift and a compelling story. While enrolled in Thomas Dale High School's Center for the Arts program, Winn lost her vision during her junior year due to an unknown brain tumor. However, her passion for music continued to blossom as it led her to audition for American Idol in 2019. Moving the judges to tears and capturing the hearts of millions, Winn earned a well-deserved spot in the competition. 
"The only voice that matters is yours! Don't listen to others who tell you that you can't and you shouldn't. Always remember the people that are around you and the people that support you," Winn said.
Her words of wisdom spoke volumes as she pushes to pursue her dreams as an emerging local talent. 
"Hearing how strong Shayy is and how she was able to make it through such a level of adversity impacted me greatly. Hearing that I was enough and that I could accomplish the things I want in life reassured me that I needed to keep working towards my dreams. She showed that hard work pays off," senior Bria Myers said.
Following Winn's moving speech, Boese and Hudgins rejoined at the podium to carry out the annual tradition of swearing in the new class officers. Afterward, they proudly announced the members of the Senior Class Council who will aid the senior leaders. The 2021-2022 council is composed of Charlotte Allums, Rebecca Boston, Grant Cunningham, Meredith Etheridge, Claire Harvel, Armani Hinman, Sophie Rose Marusco, Alex Nielsen, Lauren Schmidt and DJ Veliadis.
"I am so excited to be on the Council! I want to help out at pep rallies and other school events to make this year the most memorable one yet," Marusco said.
Topping off the ceremony, class officers Walker and Tracy gave closing remarks prior to dismissing the Class of 2022. After the ceremony was complete, students flocked to the commons in front of the gym where a reception was held. 
For the remainder of the morning, students enjoyed breakfast provided by the PTSO, complete with Chick-fil-a, donuts, an abundance of fruit and refreshments. Once everyone had their food in hand, seniors gathered outside where they could take pictures to commemorate the milestone event and rejoice in the company of their peers.
"It felt really nice to see everyone in person again, as well as hug all of my friends and take pictures all dressed up,"senior Sreeman Vanigalla said. "The whole experience was really fun and relaxing."
As it was the first time the entire Class of 2022 had been able to join together since their sophomore year, the ceremony undoubtedly set an optimistic and cheerful tone for the months to come. 
Leave a Comment
About the Contributor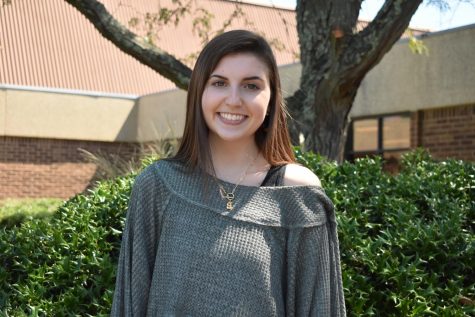 Bridget Tracy, Editor-in-Chief
Bridget Tracy, Editor-in-Chief, Class of 2022

Senior Bridget Tracy has been on staff for three years, and continues to write high-interest articles,...