The Woman, The Myth, The Legend
Field Hockey Spotlight on Nora Mulroy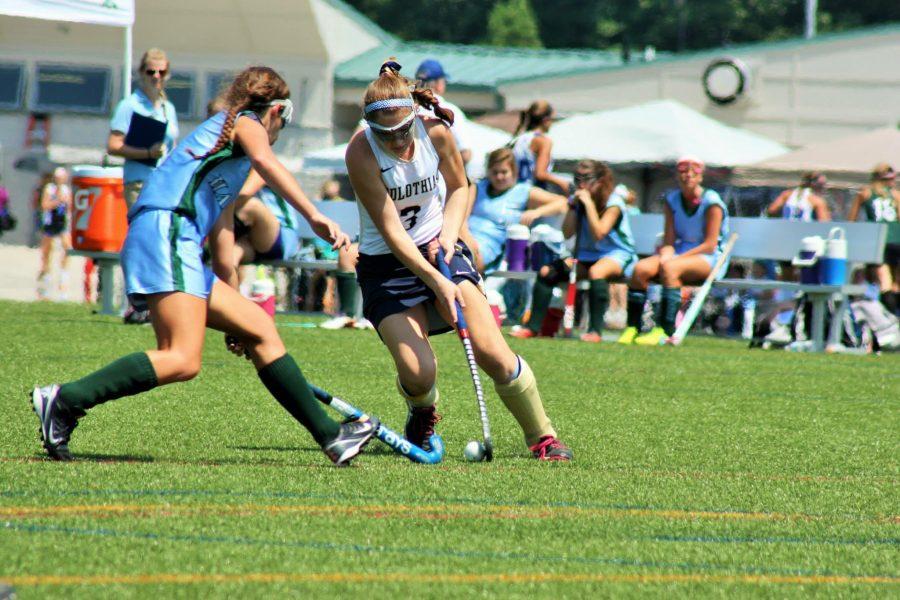 After last year's stellar field hockey season, making it all the way to regionals, senior captain Nora Mulroy is back and ready to make her senior year one to remember. Last year, Nora was named co-captain, along with Frankie Urcia and Natalie Durcan, Class of 2016. With the graduation of both of those players, Bella Urcia and Regan Sabine stepped up to the plate and filled the two opening captain positions. This trio is determined to lead their team to many victories this year, hoping to make it even further than they did last year.
Unfortunately for Mulroy, this season started with the diagnosis of a concussion in the beginning of August, leaving her unable to play for two weeks. She sat out the first game of the season, a win (6-0) over Hanover, but returned for the toughest matchup of the year, a chance for Midlo to redeem themselves against Grafton. Last year, Midlo lost to Grafton in regulation time, 1-0, a heartbreaking loss, but a hard fought battle. With last year's game under their belt, the girls went into this rematch excited and determined to make the outcome in their favor. After Midlo scored the first goal in the first half, the Trojans kept the Grafton Clippers 1-0 at halftime. Keeping their lead well into the second half, with 2 minutes left on the scoreboard, Grafton shot one right into the corner of the goal cage, closing the lead and tying it up, forcing the game into overtime. Nora came out with an intense power and resilience along with her fellow teammates; however, Grafton managed to get one by Midlo's goalkeeper, resulting in a 2-1 loss for the Trojans.
Nora played her heart out, despite feeling nervous about playing in this game, saying,"This was my first game back after 2 weeks on injury reserve. Even though it was a tough game, I was still able to play well, and it boosted my confidence because I wasn't sure how I would play."
Mulroy began playing field hockey in the third grade. After testing out other sports like softball and running, she fell in love with field hockey and has played ever since. During her freshman year, Mulroy made the varsity team, and during her sophomore year, she snagged a starting position. Since Mulroy has emerged as one of Midlo's premiere players, she has gaining attention from several colleges. "I know I want to play in college," says Mulroy, "I'm just not sure where yet." Besides playing field hockey year-round, Mulroy also plays lacrosse for Midlo in the spring and runs indoor track in the winter. Even though she has a great skill for all three of these sports, she still finds herself drawing more towards hockey, saying,"I've been playing field hockey way longer, and I just have more confidence in myself playing hockey than I do lacrosse."
As a four-year field Midlo hockey player, Mulroy has a great deal of favorite memories from past seasons. Some of her favorites include: french braiding teammate Lauren Elmore's hair before every game junior year and scoring the winning goal against Cosby in overtime this year. She shares, "My favorite part about playing field hockey is that it is such a skill-oriented sport, and I love executing a skill and getting around a defender; it gives me a sense of accomplishment." Her favorite part about Midlo field hockey, however, is the closeness of her team. "We're all like best friends," says Mulroy; "we're all family." With Mulroy's senior season well underway, she feels optimistic regarding field hockey about what the future holds: both this year and post-high school.
About the Writer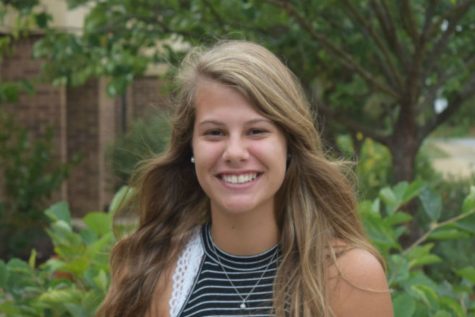 Sydney Van Horn, Midlo Scoop Staff
Sydney Van Horn, Class of 2017