Midlo hosts upcoming events for the senior class
Class of 2021 Information
Congratulations! In less than a month from now, your child will graduate from high school. Parents, family, friends, and educators will mark this day with pride, as our students end high school and begin bright futures. We look forward to celebrating this milestone with you. In the next few weeks, we have several important events leading up to this momentous occasion.
SENIOR AWARDS ASSEMBLIES – MAY 26TH
Prior to our graduation ceremony, the Midlothian High School faculty is excited to recognize several members of the Class of 2021 for their outstanding accomplishments.  We have planned two in-person awards and scholarship ceremonies for the evening of May 26th, and a recorded awards ceremony for all seniors receiving awards, scheduled for release that same evening.  The in-person awards and scholarship ceremonies will be invitation only; however, we do plan to livestream the event on our Trojan Live Network.  Please be certain to subscribe to the Trojan Live Network YouTube page to ensure you are able to view the livestream. The recorded awards ceremony will be shared with all senior students and parents through email and on social media as well.
SENIOR EXAMS
Senior exams begin on Wednesday, June 2nd. Seniors who meet the exam exemption requirements will be exempt from taking their final exams for the corresponding course.  Exam appeal information and procedures will be available beginning May 14. No appeal will be considered after 4:00 pm on May 21st. Teachers will communicate exemption status to students prior to the scheduled exam. Click here to view detailed information regarding the exam schedule and exam exemptions.  
SENIOR PACKET PICKUP AND CHROMEBOOK RETURN – JUNE 4TH
On Friday, June 4th, seniors must come to school to return their Chromebooks and pick up their graduation packets. Chromebook collection and packet pickup will take place on the bus loop from 10:00 am – 12:00 pm and 1:30 pm – 3:30 pm. Packets will contain awards, regalia, graduation programs, parking passes (2 max), and graduation tickets (4 max). Packets will be issued to graduating seniors only. If students are unable to pick up their packets on June 4th, they may pick them up on Monday, June 7th, from 4:00 pm – 6:00 pm in the main office.
Additionally, students who have earned a cumulative grade point average of 4.0 are entitled to wear a gold tassel at graduation. These will be available on June 4th at packet pickup. Qualifying students may trade their blue and gold tassel for a gold tassel at no extra charge. If students wish to keep both tassels, they should bring $7.00 to pay for the extra tassel. We will accept exact change or checks made payable to Midlothian High School.
GRADUATION – JUNE 9TH
Graduation Practice: In lieu of graduation practice,  we will release a video through Canvas for seniors that walks through important information and procedures.  Seniors must watch this video prior to participating in graduation. 
Graduation Ceremony: Midlothian High School's graduation ceremonies will begin promptly at 8:30 am, 11:30 am, and 7:00 pm on Wednesday, June 9, at F.W. Poates Stadium.  Students must arrive one hour prior to their scheduled graduation ceremony.
Graduation Attire: Seniors must wear their blue caps and gowns. Underneath their gowns, students may wear black or blue slacks with a dress shirt, or a dress or skirt not longer than the gown. We highly recommend that graduates choose sensible dress shoes.  Students must not wear heels, as graduates will be walking on the football field. Any adornments on caps and gowns is highly discouraged. Additionally, graduates may not bring cell phones into the school or F.W. Poates Stadium; please leave cell phones and personal items with a family member. 
Arrival and Parking: Masks are required for entry. Upon arrival, seniors and guests will enter the student parking lot through the bus loop, following the directions of the parking lot attendants. Only those guests holding tickets issued from Midlothian High School will be admitted. Once parked, senior students are to report directly to the school auditorium through doors 25 or 26. Note: Please do not drop your senior off in the bus loop. Guests may remain in their car until one hour prior to the start of their scheduled ceremony, at which time they may enter the stadium and follow the directions of the faculty, who will assist with seating. Guests with physical disabilities may request assistance upon arrival. Handicapped seating is available on the school track and in the stadium seating area.  
Graduation Streaming and Photos: The graduation ceremony will be broadcast live on Midlothian High School's TrojanLive Network – the link will be shared as the graduation date nears. The graduation ceremony will also be available on the TrojanLive Network YouTube page for viewing after graduation.  Candid Color will take photographs at graduation. See the attached flyer for information on pre-registration and ordering.
Rain Date: The rain date for graduation is Thursday, June 10th. If we need to postpone, the decision will be made on June 8th. Otherwise, we will proceed with our originally scheduled date and times unless the inclement weather is so severe that we must delay.
General Information: So that all graduates can hear their name when called, we respectfully request that you refrain from loud yelling, using noisemakers, and remain at the ceremony until the last name is announced. Please leave packages, balloons, silly string, coolers, food, drink, etc. at home.  We thank you in advance for your cooperation. 
Thank you for the privilege of working with and supporting this fine group of young people.  We are proud to have been a part of their lives, and we wish them continued success in the future.  We look forward to seeing you at graduation.
Leave a Comment
About the Contributors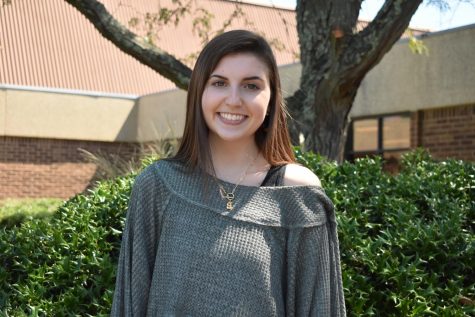 Bridget Tracy, Editor-in-Chief
Bridget Tracy, Editor-in-Chief, Class of 2022

Senior Bridget Tracy has been on staff for three years, and continues to write high-interest articles,...