Just Do It: D'Amato turns pro
Spotlight: Keira D'Amato signs to Nike
Midlothian resident Keira D'Amato first laced up her running shoes in 1998, not knowing what the future held. Twenty-eight years later, she signed to run professionally for Nike.
D'Amato, hailing from Oakton, Virginia, ran cross country and track & field for Oakton High School, where she graduated in 2002. In her high school career, she was a six-time VHSL State Champion, winning two cross country titles, three 1600 meter titles, and one 4 x 800-meter relay title. For her dedication and success in Oakton's running program, D'Amato was inducted into the VHSL Hall of Fame. After high school, D'Amato enrolled in American University as a mathematics and computer science major and athlete in the running program. Throughout her collegiate career, she found enormous success, on both the regional and national stage. By the time she graduated in 2006, D'Amato became a four-time All-American, placing sixth at the Division 1 Cross Country NCAAs, earning over 20 conference titles, and being a 2006 NCAA Woman of the Year Finalist, and was inducted into another Hall of Fame.
Post-collegiately, D'Amato "wanted nothing more than to be a professional runner," but, like many runners, she was forced to retire early due to an injury. Not entirely happy with how her "Round 1" ended, D'Amato "had a lot of unfinished business that I feel so fortunate to get a second chance at. It's a powerful thing to have a second chance. I don't want to come up short again." After taking time off to begin her adult life, D'Amato found herself itching to get back into running. The mother-of-two and prominent realtor in the Richmond area starting running again to "have some alone time and a little space to myself in a chaotic time." Soon, her "why" started shifting from finishing a 5k to eventually finishing a marathon. Finally, after some years of training, [her] "why" is now to be the best in the nation . . . and the world!
And she has begun to achieve just that. In recent months, D'Amato has risen from the ashes and become a fierce competitor on the world stage. She's "having the time of [her] life" training and working to achieve goals, setting the "times" of her life. Currently, D'Amato holds the American Record in the Women's 10 Mile at 51:23, which is a 5:08 mile pace. She has run a 15:04 5K, faster than the Olympic Standard time, and holds the seventh U.S. All-Time Marathon and 10th U.S. All-Time Half Marathon. What's more impressive is that she accomplished all of this as a "hobby-jogger," which is a person who is not signed professionally or runs on an official team.
D'Amato's historic feats granted her the ability to achieve the ultimate dream: signing professionally with Nike. She said, "I have been running in Nike shoes for as long as I can remember. I love their shoes and gear and I appreciate their innovative technology. When picking a sponsor, it felt natural to go with the sponsor that I already loved and have been wearing for years." In her professional career, D'Amato hopes to make an Olympic Team, break additional American records, and make waves on the world stage.
Other than simply chasing her own goals, D'Amato takes the time to involve herself with Midlo's Varsity Cross Country and Track & Field programs. Her husband, Anthony D'Amato, graduated from Midlothian in 2002 and ran under the current coach, Stan Morgan. This connection has opened the doors for collaboration between Midlo's running program and D'Amato, and over the past year, she has run with a select group of athletes and paced senior Caroline Bowe in three time trials. Bowe said, "She is always there for me and has given me great advice throughout my journey, specifically my college search and training through COVID-19. Her positivity and light radiates to those around her, and I am so lucky to call her one of my good friends. I strive to be like Keira!" Coach Stan Morgan, witnessing D'Amato's rise to success and impact on his own team, said, "She is driven to be one of the best female runners in the country. Her work ethic shows people that if you set your mind to accomplish certain things, you can achieve goals that seemed impossible."
D'Amato hopes to continue to inspire young runners as she begins her journey with Nike. She advises everyone to "have fun because that's the name of the game." She has found that when she has fun, she performs better because there's "nothing to lose." D'Amato reflects on her path to a professional contract and wishes to impart one piece of advice for those chasing their dreams: "GO FOR IT. You can get there by throwing everything you have into that dream. I've chased so many wild dreams and some I've reached and some I've come up short, but here's the beauty of it all: whether I hit or miss the goal, I was glad I tried. I think a lot of people are so afraid of failing they don't want to try. I've failed so many times I can't remember, but guess what, I'm fine! I learn what I need to learn and I move on, and I'm a little bit closer to the goal."
About the Writer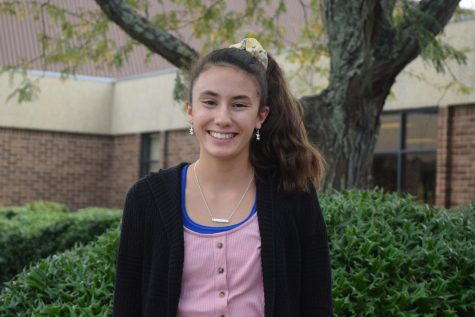 Katherine Krievs, Editor-in-Chief
Katherine Krievs, Editor-in Chief, Class of 2021