Midlo students devote time to community service
Chesterfield Food Bank Volunteers
Amid the pandemic of 2020, seniors Sarah Nugent and Katie Kinskie, alongside freshman Katie Zoe Kaze, came together to donate their free time to helping the Midlo community. The volunteers work for Chores for Change, a teen-run organization that solely focuses on collecting money and food for the Chesterfield Food Bank. The organization was established during the summer months of the pandemic as a way for teenagers to get involved when volunteer opportunities were limited. 
Over the summer, Chores for Change held their own drive-through car wash in Hallsley, a Midlothian neighborhood.  Despite the challenges to gather volunteers, determine needed supplies, and figure out the logistics of the actual event itself, it concluded as a huge success, raising about $1,400 for the Chesterfield Food Bank.  Since the car wash, the group of leaders has grown exponentially as an organization.
One of the most recent events hosted by Chores for Change was a food drive during the Christmas season.  The volunteers, along with Santa Claus, walked the streets of the Hallsley neighborhood on Luminary Night, collecting paper bags full of canned food. After counting the food, the volunteers were stunned at the massive amount of food collected. "What we expected to be a few cars full of food turned into enough bags to fill up the entire floor of the clubhouse, adding up to 5,200 pounds of donations," Nugent said.
Nugent and Kaze started their volunteer service at Chesterfield Food Bank distribution centers a few times a week, which would later grow into a deeper love for service.  Noticing their service, Kaze's mother, Mrs. Kelly Kaze, reached out to the girls, asking them if they were interested in being leaders for a new organization.  "We were thrilled to have an opportunity to further our involvement with the food bank.  It has been a great experience seeing the many sides of what the food bank does.  From distributing to fundraising, and even visiting the office and filming a video for the food bank, we have definitely learned a lot and seen the positive impact it has on our community," Kaze said.
On a final note, the Chores for Change group collectively said, "In the midst of so much chaos in the world, it was uplifting to be a part of something so positive. The generosity and kindness we were shown by the people in this community were overwhelming, and we are so thankful to everyone who participated."
Leave a Comment
About the Contributor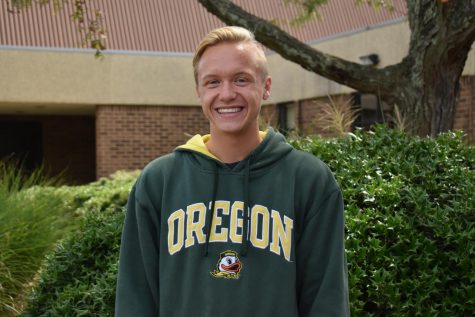 Kyle Reeder, Associate Editor
Kyle Reeder, Associate Editor, Class of 2023