Kamala Harris empowers women globally
Kamala Harris: a barrier-breaking prosecutor with a love for grilling, roasting and music; a leader and woman of power; and the first female United States Vice President in history.
In her career, serving as an inspiration to women worldwide, Harris preaches the mantra,"You may be the first to do many things, but make sure you are not the last."  In 2010, she was the first woman and person of African and South Asian descent to serve as California's Attorney General. In 2016, she became the first Asian-American senator from California. In 2020, she made executive branch history, becoming the first woman to be elected as the Vice President of the United States of America.
In the political sphere, Harris has served on senate committees and is perhaps best known for her unwavering questioning of injustices. Championing equality is a passion that was first inspired by her mother, Shyamala, an Indian-American immigrant, activist and breast cancer research scientist. Growing up, Harris learned that in order to develop a powerful character, it was imperative that she stand up to unlawfulness and resolve to advocate for those who could not do so for themselves. Her political message has remained broad, stressing unity and togetherness. She defended immigrant rights, public schools, and medicare for all in the Senate, putting a particular emphasis on female empowerment.
During her speech at the National Partnership Gala Dinner in 2017, Harris said, "To tackle the challenges of the twenty-first century, we must empower women and families. If we do not lift up women and families, everyone will fall short." She was explicit in addressing her message about how important it is to empower women and young girls to create a progressive society. She made clear that she is not trying to restructure society, but working to remedy fundamental issues.
For many women of color in higher education, the election of Harris serves as a moment of gratification and recognition, as well as a symbol of hope for the future of women in positions of power. Women globally credit her for serving as a pioneer and proving that women from all backgrounds can make a difference in politics and traditionally male-dominant fields.
In her 2020 election victory speech, Harris said, "But while I may be the first woman in this office, I will not be the last, because every little girl watching tonight sees that this is a country of possibilities. And to the children of our country, regardless of your gender, our country has sent you a clear message: dream with ambition, lead with conviction, and see yourselves in a way that others may not, simply because they've never seen it before, but know that we will applaud you every step of the way."
America's young women look upon Harris as a figure of success and a pillar of the feminist movement. One century after women earned the right to vote in 1920, a woman has made her way to the top of the government. One century later, Harris shattered the glass ceiling.
Leave a Comment
About the Contributor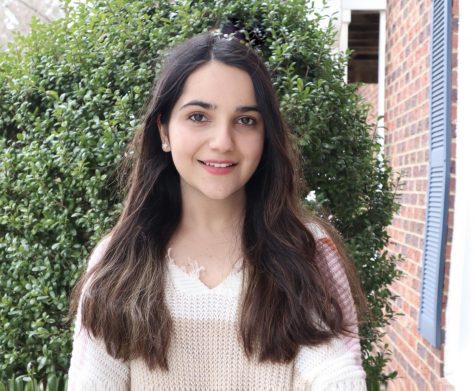 Mannal Javeed, Midlo Scoop Staff
Mannal Javeed, Class of 2021