Bowe bounds to UVA
Caroline Bowe signs to run for the Cavaliers
In 2014, Caroline Bowe began her running career at Midlothian Middle School, not knowing what the sport had in store for her. Now, Bowe, a senior, will enroll at the University of Virginia in the Fall of 2021, where she has committed to run Division 1 Cross Country and Track & Field. Over the past six years, Bowe has grown both as an athlete and a person, as running taught her important lessons in hard work, determination, and overcoming challenges. 
She began running because her older sister, Katie, found success in the sport; Caroline decided to pursue running and immediately fell in love. This passion pushed Bowe to put in thousands of hours of running, weightlifting, and stretching that left her with unmatched fitness levels and mental toughness. Throughout her high school running career, Bowe ran under her three coaches, Coach Stan Morgan, Coach David Benjamin, and Coach Dan Ward, who all impacted her training differently. Coach David Benjamin led the team spiritually, guiding Bowe through hardships, where Coach Dan Ward influenced Bowe to spread her talents to events in which she previously doubted herself. Under Coach Ward, Bowe competed in the 4×400 meter relay and 4×200 meter relay, which allowed her to form new relationships with her teammates. Coach Stan Morgan, Midlo's Head Distance Coach, is her "number one supporter off and on the track," who "always pushes [her] to accomplish [her] goals." 
Because of her work ethic and the guidance from her coaches, Bowe is the 20  19 1000m State Champion, 2019 1600m State Runner-up, and member of the 2019 All State Cross Country team. She has also earned three top-three finishes in state meets and run the U.S. No. 1 time in the 1000 meter race, which she held for two weeks. At the collegiate level, her goal is to attend the NCAA Track & Field Championships, where she hopes to place. 
In regards to her collegiate decision, Bowe remarks, "I chose UVA because of the incredibly bright future of the track & field/cross country program and the challenging academics. Coach Vin (Lananna) and Coach Nicole (Freitag) gave me a vision of developing as an athlete and teammate. I felt immediately at home and knew UVA was the place for me when I met the girls on the team! I'm so excited to be a part of this family! Go Hoos!" At UVA, she desires to increase her performance level and pursue the 1000 meter run, which is her favorite event. She feels "really excited to join a D1 program because of the intensity of the workouts," explaining that "it will be fun to compete at the highest level possible."
Congratulations, Caroline Bowe!
Leave a Comment
About the Contributor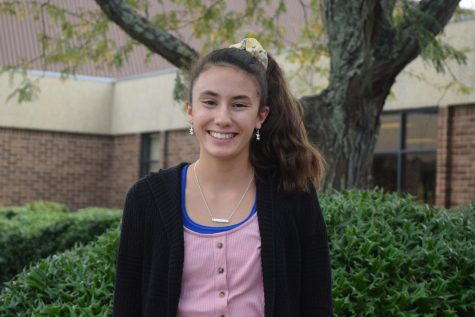 Katherine Krievs, Editor-in-Chief
Katherine Krievs, Editor-in Chief, Class of 2021