Regal Cinemas reopens after 7 months of closure due to pandemic
2020 Regal Cinemas Reopening
As businesses across the country begin to reopen, Regal Cinemas proudly welcomes guests back to theaters. After closing in mid-March, Regal Cinemas has created several new guidelines and other sanitary measures to make sure all viewers feel comfortable and safe while visiting.
Regal Cinemas has introduced several new rules, including the requirement that customers purchase tickets via the Regal app or online. Along with purchasing tickets in advance, customers also must buy snacks and other drinks from the concessions via their phones.  In the theater, to respect social distancing guidelines, every other register will be closed, along with the closing of the condiment bar.  For drink and popcorn refills, guests can exchange their cup or bowl for a new, clean one.   
During the movie screening, movie-goers must wear a facial covering for the duration of the film, but can remove them while eating or drinking.  Regal Cinemas also offers free face masks to anyone who may arrive empty-handed.  Following their reopening, Regal has reduced their maximum capacity to 50%. Along with this, Regal adheres to social distancing guidelines by maintaining a distance of two seats between each group with every other row unoccupied. 
Some viewers may be discouraged by visiting public areas, but Dr. David Goldsmith, an epidemiologist at George Washington University, states, "When you are in a movie theater, you are facing the screen, you are not as you might be in a restaurant, having friends face you and potentially expose you to the virus."  In conclusion, Goldsmith verbalizes, "Coming to a movie theater is much less risky than other activities, like religious services, restaurants, or even going shopping." Regal has also implemented several hand sanitizer dispensers in and around the theaters to ensure cleanliness.
Regal is now playing several re-runs of classic films that include: Empire Strikes Back, Pets, Black Panther, RBG, in remembrance of Justice Ginsburg, and the newest released film, Tenet.  Several Halloween classics are playing as well, such as Hocus Pocus, Friday The 13th, and The Shining.  Sophomore Hayden Stamp saw Tenet and The New Mutants, and explains the theater experience as "different because it was so empty, and we [were] almost the only people in the theater." Stamp also remarks that "they block every other row' which helps with obstructed views. Midlo students Halle Geoghagen and Lo Hill both saw a newly released movie, The New Mutants, and Geoghagen shares that "the process went very smoothly.   "I'd forgotten how fun it was! I saw The New Mutants and ate so much popcorn!" describes Hill. 
For more information, watch this Regal Cinemas Covid-19 Information Video.
Leave a Comment
About the Contributor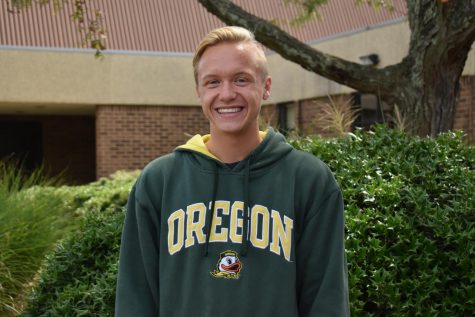 Kyle Reeder, Associate Editor
Kyle Reeder, Associate Editor, Class of 2023