Rest in Peace, Ruth Bader Ginsburg
Supreme Court Justice Ruth Bader Ginsburg dies at 87
On September, 18, 2020, Supreme Court Justice, Ruth Bader Ginsburg, lost her battle with pancreatic cancer at her home in Washington D.C.  Following her death, hundreds of mourners gathered at the United States Supreme Court building to pay their respects, leaving fresh flowers, candles, and other Notorious RBG memorabilia.
Born on March 15, 1933, Joan Ruth Bader grew up in Brooklyn, New York. At the age of seventeen, the Cornell student met the love of her life, Martin David Ginsburg. Ginsburg shared, "What made Marty so overwhelmingly attractive to me was that he cared that I had a brain."  Ginsburg earned a B.A. from Cornell University and a J.D., magna cum laude, from Harvard Law School, where she studied diligently, wrote for the Harvard Law Review, and sought to make an impact as one of only eight women in a class of over 500 students. Since it was uncommon women to attend law school at the time, Ginsburg always felt a sense of responsibility to show other women that it could be done. During their time together at Harvard, Ginsburg's husband fell ill, and Ruth took care of her their two children, while attending both her and her husband's classes, a truly amazing feat.
During her law career before joining the Supreme Court, Ginsburg brought six cases to the Supreme Court, all based on gender equality. She won five of the six cases during a time when many failed to truly understand the depth of inequality that existed. The Court began to recognize Ginsburg for her continuous effort to bring equality to all Americans.
While in New York, Ginsburg taught law courses at Rutgers University from 1963 to 1972, later serving as a full-time professor at Columbia University from 1972 to 1980. In 1980, President Jimmy Carter noticed her talents and appointed her to the U.S. Court of Appeals in Washington D.C.; she later earned a seat on the U.S. Supreme Court in 1993, after receiving a nomination from President Bill Clinton.
As a justice, Ginsburg was considered a moderate-liberal, who made no secret of her quest for equality. In 1996, in a 7-1 verdict, the Supreme Court ruled on United States V. Virginia, finding that Virginia's decision to create a women's only academy, comparable to the men's academy (VMI), did not satisfy the Fourteenth Amendment's Equal Protection Clause, which opened the door to VMI accepting women. Even though the verdict was 7-1, many credit Ginsburg's influence as a catalyst for the decision. Her relentless work in paving the way for women and her fiery dissenting opinions led to her nickname, the Notorious RBG.
In the days following Ginsburg's death, hundreds of people have gathered in front of the United States Supreme Court building to commemorate her meaningful life. The fresh flowers fill the streets with a sweet smell, and soft music plays, as an adoring public deals with shock and heartbreak. Along with the crowds, several news teams routinely linger to capture the historic moment. In all, Justice Ruth Bader Ginsburg lived a life of honor, service, equality, all while defying expectations.  As the first woman to lie in state at the U.S. Capitol, she made history again. Survived by her loving children, James and Jane Ginsburg, her two grandchildren, Paul and Clara, Ruth Bader Ginsburg also leaves behind millions of people with whom she forged an intense connection across America. Rest in power, RBG.
More information about Ruth Bader Ginsburg:
View Comments (1)
About the Contributor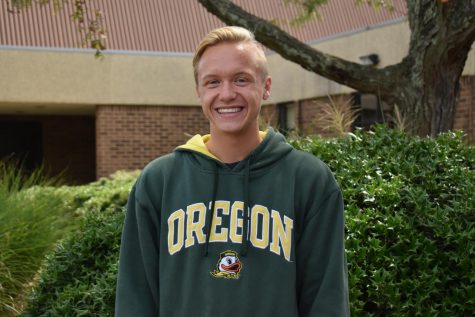 Kyle Reeder, Associate Editor
Kyle Reeder, Associate Editor, Class of 2023