Midlo Athletic Boosters partners with Shell in innovative fundraising opportunity
Shell gas station dedicates pump to Midlothian Athletic Boosters Association.
As Midlothian sports teams gear up for the upcoming condensed seasons, the Midlothian Athletic Boosters Association partnered with the Charter Colony Shell gas station, dedicating pumps 7 and 8 to fundraising for Midlo athletics.
On September 10, 2020, Midlo student athletes and Athletic Director Mrs. Shea Collins, along with coaches and members of the Midlo Athletic Boosters, gathered to officially cut the ribbon to this fundraising opportunity. Spectators admired the new blue and gold Pump 8, decorated with symbols from each sport and the Midlothian Trojans logo. Following the ribbon-cutting ceremony, participants, dressed in Midlo gear, lined up to fill their tanks and support the Boosters. Senior track athlete Caroline Bowe shares, "I loved getting gas at the Boosters gas pump." She adds, "It feels great supporting Midlo's teams."
For each gallon pumped at pumps 7 and 8, Shell and Rams Petroleum will donate $0.03 to the Midlo Athletic Boosters, benefiting all sports at Midlo. To further incentivize participation, Shell Rewards members receive discounts at the pump as well. 
Many Midlo athletes, who usually spend time during their respective seasons with fundraising efforts, greatly appreciate the new Midlo gas pump. Senior football player Colin Seiler explains, "The pump is a great way for the Athletic Boosters to raise money so that we as student athletes don't have to worry about the cost of our sports." 
To support the sports programs at Midlo, stop by pump 7 or 8 at the Charter Colony Shell gas station today.
About the Contributor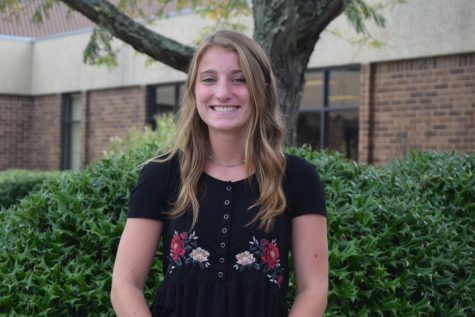 Maddie Burke, Editor-in-Chief
Maddie Burke, Editor-in-Chief, Class of 2021