Adrian Cox sails to VMI as a step toward fulfilling Navy goal
Senior Spotlight: Adrian Cox
On Monday, March 23, 2020, Governor Ralph Northam announced that schools will remain closed for the remainder of the academic year due to the escalating COVID-19 pandemic. In response to this decision, Midlothian High School students have expressed immense sadness due to the premature end of their school year. This virus has resulted in the loss of their ability to complete their courses in person and say goodbye to their favorite classmates and teachers. However, Midlothian High School administration, faculty, and senior class officers have taken numerous steps towards providing Midlo seniors with a proper final year, such as through the virtual Senior Spirit Week and virtual senior awards ceremony and individual in-person graduations. Businesses have also stepped into this venture, such as Krispy Kreme, which offered free decorated "Class of 2020" donuts to any senior to celebrate this group of individuals during a tough time, and numerous Midlothian students waited in a lengthy line to engage in this drive-thru style graduation. Despite the harsh atmosphere within the world, continuing to take measures to counteract the negative implications during this time helps maintain the legacy of the Class of 2020. Hundreds of Midlo seniors have spent years dedicating their time to academics, clubs, sports, volunteer work, and more, and these accomplishments deserve recognition, despite the current negative state in the world. Among these seniors, Adrian Cox stands out.
Cox has been an integral part of the Midlothian High School Soccer Team since joining his freshman year. He played as a Midfielder throughout high school, and eventually landed the role of Captain for his senior year. Throughout his four years on the team, he has united the soccer team with his ability to establish bonds through humor and his light-hearted demeanor. He commands the respect of his teammates through his dedication to the sport, and love for the game. One of his most beloved memories of the soccer team occurred during his junior year when he made Varisty and had to shave his head, a Midlo Soccer tradition. The embarrassment he felt for his botched haircut never overpowered his pride for taking part in such an impactful element of the Midlothian community. Cox comedically shares, "Shaving my head lost me my prom date, but my time with the Midlothian High School Soccer Team made my high school career one to remember."
In addition to Cox's talent for sports, he also serves as a pillar in the business and marketing community within Midlothian High. Cox has participated in Midlothian DECA for the past two years, and he qualified for the state competition at Virginia Beach during his senior year. His time with DECA has helped form and mold his sharp business mind, and he thanks the club and sponsor, Mrs. Carolyn Manheim, for "bringing a plethora of exciting opportunities and possibilities to [his] life through her constant encouragement and support." Cox also joined FBLA in his junior year and has competed and qualified for the state competition ever since, along with his team members, Ben Wrobel and Jakob Marshall during his first year and Tad Kozusko his second. He reflects on his time with the FBLA club and his valuable teammates, sharing, "Competing on a team with such intelligent individuals inspired me to perform my best at the state competition, and it pushed me to work harder in other aspects of my life as well." He also thanks Mrs. Yvonne Mullins for honing his business skills in FBLA and in the classroom. 
Not only does Cox excel in his extra-curricular activities, but he also worked two jobs throughout high school and completed impactful community service activities. He worked as a referee at Robious Middle School throughout his sophomore and junior years, continuing his love for soccer and hands-on experience. Recently, he began working at Five Guys to save spending money for college, sharing, "I just began this job as a way to make extra money in quarantine, but so far, it has been a wonderful experience." One of Cox's most notable community activities throughout high school took place during the summer of his junior year through his involvement coaching a soccer camp for young children. He loved this moment and recounts his time with these children fondly because it allowed him to "run exciting drills, play fun games, and help enhance kids' soccer skills."
Among his classmates, Cox's amicable humor is part of the reason he stands out at Midlothian. He recalls a fond memory from his IB Business Management class, where he received an award from Mrs. Manheim called the Adam Sandler Award, which recognized his great sense of humor. Manheim describes Adrian as "extremely kind and thoughtful" and goes into more detail, sharing, "He sent me flowers when I was sick, and he can fill any room with laughter through his excellent sense of humor. I have always said he would be the best prom date!" Not only has Manheim noticed these qualities in Cox, but his classmates also adore him for his unique personality. FBLA companion Wrobel shares, "Adrian is an outgoing and comedic friend, who never fails to bring a laugh or smile to your face when you need him." Senior Vic Lin elaborates, "Adrian is one of the most interesting people I've ever met in my life. Oftentimes, he would joke around and make fun of everything he sees, but deep inside, he's an extremely caring person. He has a unique wit that allows him to get along with many people. I'm so glad we met during freshmen year."
Since around the age of four, Cox has dreamed to enter the military and eventually become an officer in the Navy. He hopes to follow in the footsteps of his father, a prominent role model throughout his youth, who served in the Navy while Cox grew up. He will attend the Virginia Military Institute in the fall as a step towards this lifelong goal. Cox shares, "Serving my country seems like the best way to spend my future." With his unique personality, dedication, and skills, Cox will surely meet his goals and become an indispensable component of VMI and the Navy, just as he was at Midlothian High School. 
About the Writer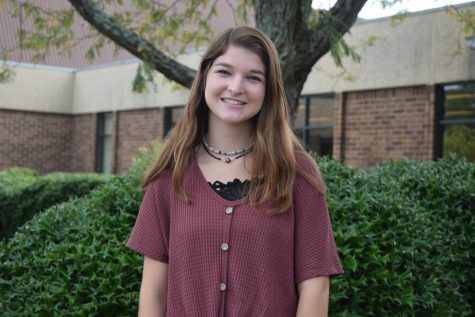 Ashley Manheim, Midlo Scoop Editor-in-Chief
Ashley Manheim, Editor-in-Chief, Class of 2020