Spewak earns coveted 2021 Teacher of the Year nod
2021 Midlothian Teacher of the Year: Mr. Mark Spewak
Midlothian High School is widely recognized for its extremely dedicated teachers, who come to school every day ready to pass on the knowledge that will equip their students with the means to take the world by storm. Each year, Midlothian teachers nominate one special colleague whom they believe deserves the honor of Midlothian High School Teacher of the Year. A committee comprised of previous Teacher of the Year recipients consider all of the nominations and recognize one unique teacher who particularly stands out as Midlo's Teacher of the Year. Last year, Mrs. Carolyn Manheim earned this distinction for the 2019-2020 school year, but in honor of May and Teacher Appreciation Week, a new teacher now takes the reigns to set an example for excellent teaching across the county.
IB Coordinator and English teacher Mr. Mark Spewak earned the distinction of 2021 Midlothian High School Teacher of the Year due to his diligent excellence, both inside and outside of the classroom, every day at Midlothian High. Since coming to Midlothian, he has made a lasting impact on the school and the IB program. Not only does he strive for excellence in his English classes and in the IB program, he also advocates for success within the AP, IB, and Dual-Enrollment class realms by partnering with other teachers to create informative and beneficial events for students considering taking a leap into these high level courses. Mr. Spewak strives to ensure "equitable, high-quality, and accessible" tests to all students through aiding the state by working with the Virginia Department of Education to review SOL test items and the curriculum framework during his summers, a testament to his dedication to "trying to make a difference in literacy in the commonwealth." Aside from academics within the classroom, Mr. Spewak also enjoys Midlothian's unique activities, such as pep rallies, where he has served as 11th grade judge for nearly 9 years.
Mr. Spewak's teaching journey began fourteen years ago at Midlothian after attending Virginia Commonwealth University. As a freshman, he knew he had a passion for English due to his love of reading, writing, and literature, but not until his sophomore year did he realize his true calling in life: teaching. Through his work as a summer camp counselor, he uncovered a passion and a gift for teaching. Reflecting on this experience, he shares, "As the aquatics director, canoe instructor, and small groups leader, it became clear what good teaching could be, and that learning can and should be an engaging and memorable experience. Sure, I am not teaching students how to build fires or swamp canoes anymore, but generally the same rules apply in a classroom." Many of Spewak's IB students will attest to this statement, as he has given them constant support and assistance throughout their experience with the program.
His knack for teaching and inspiring is evident in his work at Midlothian High School as IB Coordinator. He acts as a counselor and a guide to his students, helping ease the stress that can comes with such a heavy course load; he helps recruit new students to the specialty center, setting up presentations for families and community members; Spewak also enjoys playing guitar on stage at the annual International Festival. Despite all these different roles, Mr. Spewak's favorite part about guiding IB students is acting as "cheerleader, coach, and adviser," all at the same time. Dr. Shawn Abel summarizes him as "an insightful teacher, who creatively inspires his students to critically think and write at a high level."
Mr. Spewak's dedication to his students is undeniable; he treats each and every student with care and respect, hoping to provide them with all they could need to succeed in high school and beyond. Of the IB program, he shares, "The students in my program are so dedicated and hard-working, and as I have expressed to many of them, it is my absolute pleasure to use whatever capacity for creativity and critical thinking that I may have to help them navigate this rigorous coursework, while also supporting them as they carve out their plans to reach their academic goals. The IB Program is an awesome community of students, parents, and teachers, and I am proud to be a part of the work we do to collaborate, engage in our school community, and support our students."
Not only does Midlo's IB Program encourage students to excel in academics, but it also offers numerous exciting activities to reward students in the program for their hard work and aims to connect the students. Some of Mr. Spewak's fondest IB memories include:  enjoying IB picnics by the river, whitewater rafting with the IB senior classes, and throwing holiday parties in the IB lounge. One of his best experiences occurred during the IB Program's trip to Prague, which he chaperoned, and he shares a desire to create more opportunities like this for his students to learn about international cultures through travel and hands-on experience.
Mr. Spewak began his teaching career at Midlothian and has thoroughly enjoyed being a part of the Trojan Community of Excellence. He reflects on his various experiences as a teacher, sharing that "each year and each class was an opportunity for learning and growth for [him] personally and professionally" and that he truly believes that his students "have taught [him] so much over the years." Midlo's IB Coordinator also gives thanks to others at Midlothian who have helped him to grow and evolve into such an essential part of the school, saying, "I am grateful for our administration and leadership team at Midlothian, who have been consistently supportive and have encouraged teacher innovation and efficacy. Finally, I am very fortunate to be surrounded by an amazing team of educators who are devoted to their students and who are masters of their craft. My fellow teachers are the ones that truly make Midlothian a community of learners year after year, and I am honored to work with so many creative, hard-working, and inspiring educators."
Congratulations, 2021 Midlothian High School Teacher of the Year, Mr. Mark Spewak!
Watching Mr. Spewak grow and develop over the past 15 years has been incredibly impressive.  Mr. Spewak uses a variety of strategies, including the use of music, Socratic seminars, effective written and oral communication, and more to help his students develop their skills.  As IB Coordinator, Mr. Spewak focuses on developing strong relationships among all stakeholders to support our IB students. While Mr. Spewak has done many things himself, he also has learned to tap into the strengths and abilities of others to support student growth, maintaining a positive attitude, even through challenging times. . -Dr. Shawn Abel, Midlo High Principal
Mr. Spewak is extremely intelligent and can really relate to the IB students on an intellectual and academic level. He makes a concerted effort to get to know them personally as well. He is kind, compassionate, and caring. He has taken personal time to bring students to Europe and give them an amazing cultural learning experience. He is also a wonderful guitar player and has a beautiful singing voice. He typically plays and sings at the annual IB Banquet. I am thrilled that Mr. Spewak succeeds me as Midlo's Teacher of the Year. -Mrs. Carolyn Manheim, Midlo CTE and 2020 Teacher of the Year
IB Coordinator…That really tall teacher….Lumberjack Spewak…Mr. Spewak is a teacher on which you can always rely. He understands where we, as students, are coming from and always keeps his students in mind when he is making final decisions. Being able to work with him through IB Student Council has been one of the most rewarding experiences of my high school career. With IBSC, he is always realistic, but he still encourages us to think outside the box and stretch our leadership skills. Overall, Mr. Spewak is the most deserving teacher of this award, and I am so honored to be able to work with him. -Anya Ruzicka, Class of 2021
Mr. Spewak has seen me at my best and at my worst, and I am so grateful to know he is always there if I need anything. It's like having a personal cheerleader watching you grow and evolve as a student, person, leader, etc., and I wouldn't trade it for the world. -Olivia Nealon Class of 2021
Mr. Spewak cares so much about us and is always willing to help! Our juniors greatly appreciate his calming reassurance as we move thought the year! –Jordan Cibellis, Class of 2021
Mr. Spewak constantly tries to better Midlothian High School and make it a positive environment for every student. He makes time for each student while still being a teacher and the IB coordinator. He has such a big impact on the IB program and will always be remembered by each and every student. -Erica Hidinger-Wood, Class of 2022
"Mark is passionate about his students and the IB program." -Mrs. JoAna Smith, Midlo World Languages 
Mr. Spewak is so kind and gentle.  I really appreciate his view on the world…instead of seeing the negative in a situation, he seems to look for the positive. -Mrs. Catherine Canty, Midlo Social Studies 
Mark [Spewak] works very hard as the IB head. I don't know how he manages it all. When I ask Mark for advice, he weighs the situation carefully before giving me a suggestion. When he was the English Department co-chair, I used to call him the 'voice of reason.' – Dr. Lorraine Rand, Midlo English
Mark [Spewak] has worked incredibly hard to help our IB program success beyond all expectations. He develops relationships with students, parents, teachers and administration to make his magic happen. He is always focused on meeting practical goals while maintaining high awareness of psychological needs of individuals and the value of the arts (the nuance of wording, the power of music, the fulfillment of employing a creative spirit) in his efforts to meet those goals. He has taken the initiative to create international travel experiences for student, to keep improving international exposure for our community through the International Festival, and to keep learning himself by enrolling in the leadership program. In short he not only cares about what he does but very deeply about for whom he does it. – Amy Petersen, Midlo World Languages
Mark [Spewak] has worked tirelessly to improve and grow our IB program here at Midlothian. He is always available to support students both academically and emotionally. He is loved by all his students and supports all the faculty members involved in teaching IB. -Ms. Emilia Mazzanti, Midlo Library
Mark [Spewak] is passionate about helping grow our IB program at Midlothian while simultaneously trying to help all of our students succeed. He spends countless hours outside of the classroom advocating on behalf of our students. Unfortunately, he does so many things behind the scenes that it is easy to overlook his efforts. Students and staff alike appreciate his calm and warm demeanor. He is creative, dedicated, and always looking for new ways to improve. -Mrs. Brooke Hoke, Midlo English
Mark [Spewak] has done an amazing job rejuvenating the IB program. His hours of dedication to improving, growing, and supporting the students has consistently been noticed. His calm temperament addressing challenges and his thoughtful execution of improvements have created a dynamic IB program that is challenging and rewarding for the students and teachers.  Mark Spewak is an absolute joy to work with. He is truly "in it" for the students. -Mrs. Cammie Bennett, Midlo Social Studies
Mark Spewak is innovative, kind, sincere, and a consummate professional. He has done an AMAZING job with Midlo's IB Program, and I am so proud of his achievements. This Teacher of the Year recognition is well deserved. Congratulations!!! -Mrs. Jackie Tully, Midlo English
Over the past three years, Mark [Spewak] has demonstrated his love and passion for teaching English and most importantly, helping students. Mark embraces any and all tasks he is assigned and does them to the best of his ability. He has an excellent rapport with students, parents and colleagues. Mr. Spewak is able to meet the needs of his students by providing quality instruction and is able to use works of literature that are relevant and meaningful to students of varying backgrounds. Having observed his class numerous times, Mark's teaching style is unique and very welcoming. He engages his students in thought provoking discussions and  works tirelessly as the IB Coordinator and has done a lot of working investigating ways we can increase students from underrepresented groups in higher level courses. Mark is passionate about providing equity and opportunities to all students and always makes decisions that are in the best interest of our students.  His hard work, dedication and commitment to student success is unmatched. -Mrs. Loretta Speller, Midlo School Counseling
About the Contributor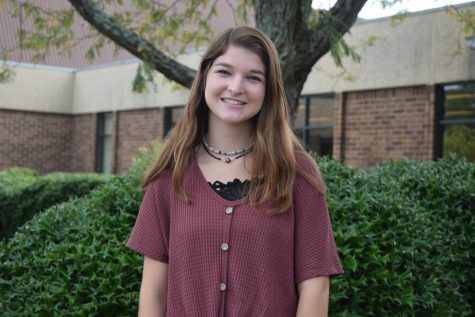 Ashley Manheim, Midlo Scoop Editor-in-Chief
Ashley Manheim, Editor-in-Chief, Class of 2020