Interact Club decks the Doorways
Interact Club holiday service project
On Tuesday, December 3, 2019, Midlothian High School's Interact Club gathered at The Doorways, a full-functioning hospitality house in Richmond, Virginia, bringing along with them their annual mission to spread holiday cheer to its residents. The Doorways houses people required to make frequent trips to VCU Medical Center (formerly known as the Medical College of Virginia) due to an ill family member or friend. In the previous quarter, the Interact Club, a community service-based organization affiliated with Midlo's Rotary Club, worked the Midlothian Food Festival in Westchester Commons, as they do every year in the fall. For their holiday project, they again engaged in decorating The Doorways with Christmas and Hanukkah decorations in honor of the upcoming holidays, with the largest participation the club had seen in years. Club sponsor Mr. Steve Hayward met the group of 20 students at the building, where they greeted this year's new leader for the task. She provided them with some decorating advice and afterwards thanked the students for their service.
Following the introduction, Club President Ashley Manheim divided the tasks, and the decorating commenced in groups of 2-5. Janos Erdelyi and Grant Garrison set up and decorated the tree in the main lobby, while Abigail Graves provided decorating advice and set up the ornaments. Adrian Cox, Vic Lin, and Ashley Manheim hung garland throughout the first floor and added bright red bows for an extra pop of color. Claire Horansky, Ellie Snead, Elle Abel, Katherine Williams, and Camran Toler positioned Christmas villages and trees throughout the library and the dining area, incorporating patches of snow and strands of lights to the  halls.  Jackson Toler and Michael White traveled to each  floor of The Doorways and decked out the areas with various trees and ornaments. Lily Debruycker and Jeff Klaiber placed illuminated reindeer and snowmen in the outdoor garden. Joey Chung and Del Hebert hung wreaths on the doors and windows throughout the building. Connor Schumann, Kaitlyn Abbott, and Madeline Bryan transformed the 8th floor, adding a nice tree with a Mickey Mouse tree skirt.
Senior Vic Lin shares his first experience at The Doorways, commenting, "It was great to watch and participate, as we decorated the Doorways with holiday decor and spread joy to a place that could be lacking it during this time of year." Interact Club completed another successful service project for the year and hopes to continue their work at The Doorways, while continuing to support many other organizations, for many years to come.
Click here to donate to The Doorways and help them with all they do to assist those struggling to afford housing, while a loved one recuperates in the hospital.
About the Writer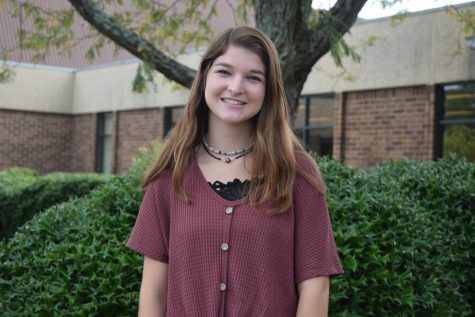 Ashley Manheim, Midlo Scoop Editor-in-Chief
Ashley Manheim, Editor-in-Chief, Class of 2020