IB students encourage 8th graders to join Midlo IB
2019 CCPS Specialty Center Fair
On October 1, 2019, and October 2, 2019, Midlo's Career and Technical Center hosted the annual Specialty Center Fair, an opportunity for 8th graders to learn about all of the different specialty centers Chesterfield County high schools have to offer. Each program had parents, teachers, and volunteers on hand to answer questions and provide information. The Midlo IB program puts together a table every year, and IB students and parents at this event encouraged 8th graders to join Midlo's IB program. Mr. Mark Spewak, the IB Coordinator, uses the event as an opportunity to show prospective students a different aspect of IB.
The evening began with the volunteers setting up the tables and displays, followed by a short break of pizza before the students flocked to the fair. As inquisitive eighth graders arrived, Midlo's IB students gave them insight on Midlo's International Baccalaureate program, explaining the different aspects of Midlo's IB program, such as the IB lounge, the unique course opportunities, and the excellent teachers; they also answered any questions the 2024 class had and also gave each a course catalog.
All of the volunteers had a great time encouraging 8th graders to look into Midlo IB. IB freshman Noelia McCaffery remarks, "I think that it was exciting to explain to the 8th graders why they should join IB and seeing where we were a year ago,"  while Ava Craft explains that she enjoyed "talking to the eighth graders and getting them excited about high school". 
About the Photographer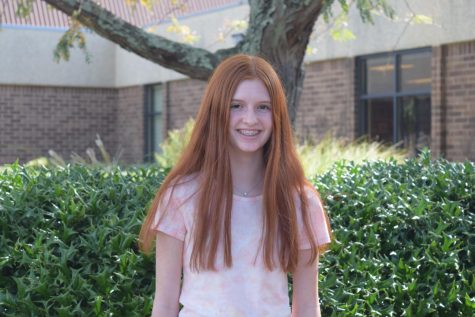 Quinn Downing, Midlo Scoop Staff
Quinn Downing, Class of 2023