Midlothian honors Major Charles A. Ransom at naming ceremony
Midlothian High School adopts Charles A. Ransom Way
On Friday, September 27, 2019, Midlothian High School, along with the Chesterfield County School Board, commemorated one of Midlothian's distinguished alumni by naming the high school's bus loop Charles A. Ransom Way. Major Charles A. Ransom played football and baseball at Midlothian, where he was picked "most likely to succeed" by his senior class of 1997. After graduating from Midlothian, Ransom served in the United States Air Force.  While serving in 2011, he was killed in an attack at Kabul airport in Afghanistan, sacrificing his life to save his fellow servicemen. Major Ransom left Midlothian High School and the community of Midlothian with a lasting impression of honor and a served as a model for a true American hero.
The Chesterfield County School Board, Dr. Shawn Abel, and families and friends of Major Ransom gathered together to reflect on the life of Ransom and thank him for his sacrifice for the United States. Chairwoman Leslie Haley states, "Today we are showing just a small token of appreciation for the sacrifice and heartache that his loved ones have endured."  
As guests entered the venue, the Trojan Band and Orchestra played various songs to welcome the guests. Once everyone took their seats, Master of Ceremonies Matt Harris, Deputy County Administrator, welcomed those gathered to honor the life of Major Ransom. Next, the Monacan High School JROTC presented the colors as sophomore Connor Long led the group in the Pledge of Allegiance. Then, the Midlothian High School Chorus performed the National Anthem before the Midlothian District Supervisor, Hon. Leslie Haley, welcomed Major Ransom's family and thanked them for their sacrifice for our country.  
Midlothian then welcomed Rev. Pernell Johnson, Pastor at First Baptist Church of Midlothian, for the ceremony's invocation. After, Midlothian School Board Representative, Hon. Javaid Siddiqi gave remarks honoring the life of Ransom, stating, "I did not have the privilege of knowing Major Ransom, but I do know his reputation. It is one of fierce loyalty, of serving to others, and leading by example." Then, Ransom's former baseball coach, Mr. Dennis Moody, reflected on Ransom's time playing baseball for the Trojans and working a job after school, all while maintaining an impressive GPA. Next, Coach Moody welcomed father of Major Ransom, Mr. Willie Ransom, a U.S. Army Veteran. Mr. Ransom first thanked Midlothian for the honor and continued to reflect on his son's life at Midlothian, remembering Ransom as a "well-rounded" and "trustworthy" person.  
Once Mr. Ransom finished his remarks, Haley and the Board of Supervisors presented the Ransom family with a plaque to forever remember this momentous occasion. Then, family and friends made their way to Charter Colony Parkway to unveil to road sign that officially marked the bus loop as Charles A. Ransom Way.  
To read more about Major Charles A. Ransom, CLICK HERE
Leave a Comment
About the Contributor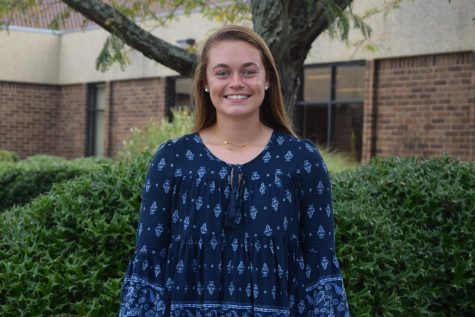 Erin Junkmann, Sports Editor
Erin Junkmann, Class of 2020