Midlo outdoor track and field teams place 2nd at regionals, head for states
2019 Region 4B outdoor track meet
Hang on for a minute...we're trying to find some more stories you might like.
On May 21, 2019, Midlo's Outdoor Track and Field team raced in the Region 4B Meet at Louisa County High School. Next year, Midlothian High School will leave Region 4B and enter Region 5B in the Virginia High School League, so the runners entered the meet with one goal: finish their reign in this region with a championship title. These competitions hold enormous importance because every athlete that achieves a state-qualifying mark or places in the top four competitors in their respective events qualifies for the VHSL 4A State Competition. At the end of the meet, runners boarded the bus bearing proud smiles, lactic legs, and many awards.
At 12:30 p.m, the running events began with the Girls 4 x 800 meter relay race; Midlo's team consisted of sophomores Millie Weinhold, Lena Caffall, Chloe Martin, and Caroline Bowe. Within one lap, Weinhold took the lead, and Caffall, Martin, and Bowe held onto it, winning a regional title. After a round of preliminary races, in the 100 meter hurdles, Erin Babashak finished in second place, earning eight points for Midlo, and Madelyn Venable finished in fourth place, earning an additional five points. Then, Dasia Hardy ran in the 100 meter dash, finishing in second place, which earned another eight points and the 200 meter dash, where she won. Additional top performers include: Caroline Bowe (1st, 800 meter run), Annabel Schepker (2nd, 1600 meter run), Erin Babashak (2nd, 100 meter hurdles; 3rd, 300 meter hurdles; 2nd, high jump; 5th, long jump; 3rd, triple jump), and Taylor Wiggins (6th, discus and 4th, shot put). At the close of the 200 meter dash, the Midlo Girls were tied with Louisa for first place, so the runners in the 3200 meter run and 4×400 meter relay would decide the outcome of this meet. In the 3200 meter run, Nicole Quiram and Lauren Merrill persevered and finished in fifth and seventh places, which earned a combined total of six points. Then, Midlo's 4×400 meter relay, consisting of Millie Weinhold, Lucy Poh, Erin Babashak, and Caroline Bowe won their race, which contributed an astounding ten points to Midlo's score. Despite these efforts, Midlo's Girls Outdoor Track and Field team placed second overall with a score of 135 points. Sophomore Chloe Martin expresses, "I am very proud of our team for pushing through and ending up in second place."
On the boys' side, Midlo's Boys Outdoor Track and Field team also performed well; Midlo's team, consisting of Ian Gray, Joey Maguire, Andrew Steenkamer, and Thomas Gray, finished in sixth place, earning three points for Midlo. Senior John Jennings had a banner day, winning the 110 meter hurdles with a time of 15.05 seconds and placing seventh in the 300 meter hurdles. Standout Max Etka earned an astounding twenty points for Midlo, as he won both the 3200 meter run and 1600 meter run. Senior Lundon Anderson earned eighteen points for the Midlo Boys in the long jump, placing fourth, triple jump, placing fourth, and high jump, placing second. Brayden Staib was a large contributor to Midlo, as he won the shot put competition and placed fourth in the discus competition. Other top performers include: Armani Hinman (24th, 100 meter dash), Nathan Royster (17th, 200 meter dash), Michael Wallace (6th, 400 meter dash), and Thomas Gray (12th, 800 meter run). The combined efforts of all of the Midlo Boys resulted in Midlo's Boys Outdoor Track and Field team placing second overall with a score of 87.5.
On May 31, 2019, and June 1, 2019, Midlo's Outdoor Track and Field team will compete at the VHSL 4A State Competition in Lynchburg, VA.
About the Contributors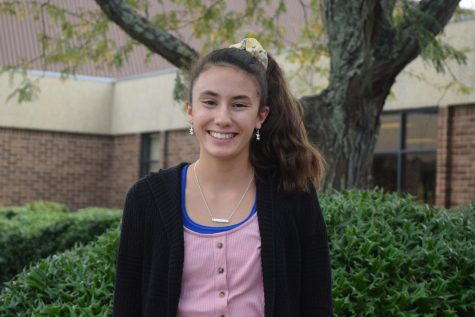 Katherine Krievs, Midlo Scoop Editor-in-Chief