Tennis seniors leave their mark on the court
MIdlo tennis senior night
On Thursday, May 11, 2019, the Midlothian High School Varsity Tennis team went up against the L.C. Bird Skyhawks. After the lineup, which introduced the top six players, the match began. The lineup of singles players consisted of: Ashley Peterson, Lawsen Barefoot, Olivia Clarke, Navilia Gottipati, Julia Folge, and Sherrine Zhang. All six ladies, eager to win, utilized fast serves and fast footwork to win their match. 
After a short break, the doubles matches began. Doubles partners Zoe Kopidis and Lauren Deaver dominated their match with strong forehands and back hands. Duo Abbey Lynch and Ella Schutzinger, motivated to win their match, moved in sync and played to their fullest potential to crush the Skyhawks. The final pair, Lily Anderson and Avnee Raje, brought home the final point. The Trojans walked away victorious, with the final score of 9-0.
Following the victory, Captain Olivia Clarke presented gifts to the 2019 seniors, Sherinne Zhang, Hannah Tucker, and Peterson. Coach Ben Pomeroy made heartfelt remarks about each girl and the impact they have left on him and the team. Lynch, who has played on the varsity team for the past three years, states, "I'm sad, but I'm looking forward to a new season with new teammates, but I'll miss Ashley and Sherinne a lot."
Zhang's passion for tennis is a huge part of who she is. She tried out for the tennis team in her freshman year, landing a spot on the B squad, which gave her the time she needed to improve her skill set in hopes to move up to Varsity. Determined to play on Varsity and prove that she belonged on the court, she took private lessons and practiced daily. Zhang's persistence did not go unnoticed by Coach Pomeroy; in the next season, she landed a spot on Varsity and played numerous exhibition matches. Over the years, she has grown tremendously as a player and as a person. Zhang states, "It's sad to leave after four years; it's been so much fun, and I've had lots of good memories." She plans to attend James Madison University in the fall.
Tucker picked up a racquet for the first time the summer before her junior year and worked hard leading up to tryouts. The B squad provided a space for her to learn more about the game. Tucker loves being a part of a team and working for a bigger goal. Tucker explains, "Tennis was a fun after school activity for me to be a part of. I wanted to learn the game, so I could play later in life. Coach has taught me so much in the past two years." She will set out on a new journey to James Madison University in the fall.
Peterson has been on the varsity team since her freshman year. Previously, she played non-competitively with her family, but decided to follow in the footsteps of her older sister by trying out for the team during her freshman year. For the next two years, she continued to develop as a player. During her junior year, she held the #2 spot, but climbed the ladder to #1 during her senior year. For the past two years, she has served as her team's captain. She reflects on the experience, saying, " It has been really fun and exciting to lead my teammates, and I can't believe my four years are over." Peterson will embark upon a new journey at Brigham Young University in the fall.
The seniors will be missed greatly by their teammates and coach; however, Midlothian Girls Tennis is excited for what the next season has in store.
About the Contributor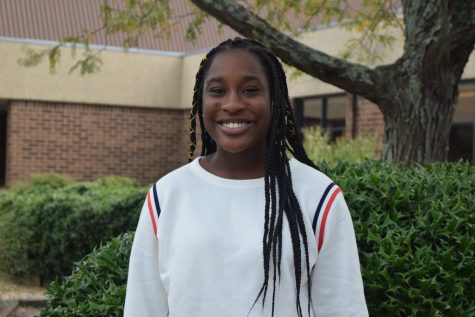 Zinzi Symister, Copy Editor
Zinzi Symister, Copy Editor, Class of 2021