Manheim Named 2020 Midlo Teacher of the Year
2020 Midlo Teacher of the Year: Mrs. Carolyn Manheim
Midlothian High School is widely recognized around Chesterfield County Public Schools for its wide population of extremely academically and personally dedicated teachers, each coming to school every day ready to pass on the knowledge that will equip each and every young man and woman with the knowledge to take the world by storm. Each year, all teachers nominate one special colleague whom they believe deserves the honor of Midlothian High School Teacher of the Year. A committee comprised of previous Teachers of the Year recipients consider all of the nominations and recognize one unique teacher who particularly stands out as Midlo's Teacher of the Year.
IB Business Management and Sports Marketing teacher, DECA club sponsor, and Senior Class sponsor Mrs. Carolyn Dyne Manheim earned the distinction of 2020 Midlothian High School Teacher of the Year in honor of her diligent excellence both inside and outside of the classroom every day at Midlothian High. Not only does Manheim dedicate countless hours of her personal time for the betterment of her students every year, as she travels with them to places such as Virginia Beach, Orlando, and Atlanta for DECA competitions, but she also inspires them in a whole different manner in the classroom. Numerous students have shared with her in a multitude of letters and cards that she inspired them to pursue a career in business and gave them insight, which ultimately led them to find their main passion in life. However, in addition to these characteristics, Manheim is noted for her unfaltering kindness, explained by Principal Shawn Abel as a "personal investment in each and every student." She stands out with her unique and spunky sense of humor, generous knowledge and wisdom, as well as her dedication to success and excellence.
Mrs. Manheim knew her path would lead to teaching from a very young age. As a child, she dreamed of teaching a class full of high school students, and she loved to pretend to teach a class of imaginary students along with her younger sister. In order to follow her dreams, Manheim attend Virginia Polytechnic Institute and State University, where she majored in Marketing Education and later attended the College of William & Mary for a master's degree in Educational Leadership. Following the completion of her personal schooling, she began her career in education with Mecklenberg County Public Schools in 1993. Since then, she has worked to improve education for students at Grafton High School and Matoaca High School before joining Midlothian High School's Community of Excellence as a business and marketing teacher in 2011. She then proceeded to dedicate hours of her time to hosting an amazing graduation for seniors, helping students to better their business minds in DECA, and enriching the minds of students in the classroom.
On Monday, May 6, 2019, Midlothian High School faculty and administrators gathered in Midlo's library at the end of the school day for the reveal of the 2020 recipient. Mrs. Jacqueline Tully kicked off the event with a short speech as the reigning 2019 Midlo and CCPS High School Teacher of the Year. She shared a few words about Manheim and announced her initiation as the newest recipient. Manheim's family joined her in honor of her accomplishment, including: her mother Catherine Dyne, her father Richard Dyne, and her daughter and Midlo junior Ashley Manheim. Her son and Midlo graduate Luke Manheim could not attend, as he is currently undergoing final exams at Virginia Tech, but he sends his love to his mother, sharing, "I am so proud of my mom for winning Teacher of the Year. She is always working as hard as she can to give her students the best education she can. She does a lot for her students and sets them up for good futures in business. She is well deserving of this award."
Following the announcement, Manheim delivered a speech to her fellow teachers, administrators, family, and guests. Through this speech, she highlighted the true meaning and purpose behind teaching. She emotionally and meaningfully shared the true honor and satisfaction one gets from working every day to blossom and strengthen the minds and character of youth that cannot be attained in any other job. "I guess for me it's always been the challenge of teaching that appeals to me- 30 indifferent strangers walking into my classroom on the first day of school and trying to earn their respect… I learned many years ago that you have to put your heart in the job to reap the benefits of it." Manheim truly does put her heart into this job, personally dedicating her time and care into each and every student, helping them to prosper and grow into something amazing, such as former UVA Senior Class President and major success Malcolm Stewart, who shares, "It would be an understatement to say that I would not be where I am today had it not been for Mrs. Manheim and the guidance and inspiration she gave to me in my time at Midlothian High School."
Manheim dedicated most of her speech to a story about a group of students whom she took under her wing as freshmen and helped  mature and grow for the remainder of their high school careers, as she taught many of them for three years in a row. The teacher of the year highlighted one student in particular, 2018 graduate Tyler Schrimpsher. She shared a story about Schrimpsher on the day of graduation, where he came through the line at the Siegel Center to say goodbye to the teachers, and she choked up, overwhelmed with the emotion of a student who had come so far, leaving the safety of Midlothian High School and going on to accomplish even greater feats. The following day, Schrimpsher sent a simple text to Manheim that forever changed the course of her teaching career; it read, "Thank you for helping me become the person I am today." Manheim elaborated on the effect of this message to her audience: "I marveled at the power of these words– sent from one human being to another. To me, those words were more important than any company Christmas bonus or incentive compensation ever could be. Those are words many parents never hear from their own children. No well-paid, powerful corporate executive will ever receive the gift of those words from an employee. Yet, we teachers are lucky enough to occasionally be the beneficiaries of those precious words of appreciation…Many students will not offer words of appreciation, but don't ever underestimate your importance to the 150 young people sitting in your classrooms and know that for some of them, whether they will tell you or not, you hang the moon."
She closed her speech thanking all of the people who led her to the honor she received during the first day of Teacher Appreciation Week. Principal Shawn Abel, Mr. Mark Spewak, Assistant Principal Elizabeth Baber, Mr. James Wilson, Mr. Nicholas Kirkbride, and Mr. Badr Sharobim. In addition to her mentors, she gives thanks to her "Midlo support system," including: Ms. Madeleine Smith, Mr. Tim Johnson, Mrs. Jackie Tully, Mr. Chris Eliot, Mr. Doug Morris, Mr. Steve Hayward, Mr. Steve Scherer, Mr. Carl Hess, Ms. Shea Collins, and Mrs. Jennifer Krievs.  Manheim dedicated the finale of her speech to her family, thanking her husband and children for their support, and  to her parents, Catherine and Richard Dyne, she  lovingly shared, "'Thank you for helping me become the person I am today.'"
Congratulations 2020 Midlothian High School Teacher of the Year: Mrs. Carolyn Manheim!
"Mrs. Manheim is a very hard-working, caring person and teacher who always tries to help her students succeed. She truly cares for her students and enjoys getting to know them as people, which is a good trait for a teacher. Also, she is extremely friendly and kind, and I love her so much." – Abigail Graves, Midlo junior
"Mrs. Manheim should be what every teacher strives to be, not only at Midlo, but around the world. She truly values hard work and always gives credit where it is due. She really does care about all of her students and realizes their potential and helps them grow to the highest quality of student they can be." – Jakob Marshall, Midlo junior
"I would like to take this opportunity to thank Mrs. Manheim for all the ways she has impacted my life, known and unknown to her. Her business classes and guidance provided me with experiences and memories that I will carry with me my entire life, regardless of where I go. No amount of words can describe the impact she has had on my career and my life." – Chris Dutton, Midlo senior
"Going above and beyond inside and outside of the classroom, no one is more deserving of this award than Mrs. Manheim. She will be one of the few teachers I ever had that will have an ever lasting effect on me." – Tyler Schrimpsher, Midlothian Class of 2018 and University of Tennessee Class of 2022
"Mrs. Manheim taught me so much about how to be successful in school and in life. I was very lucky to have her as a teacher for 3 years." – Casey Joyce, Midlothian Class of  2018 and Virginia Tech Class of 2022
"It would be an understatement to say that I would not be where I am today had it not been for Mrs. Manheim and the guidance and inspiration she gave to me in my time at Midlothian High School. Every day, incredibly smart and talented people are accomplishing things around the globe, and they all get the praise, attention, and glory of the feats they achieve, but rarely do you see all of the people that built the foundation for those individuals getting recognized. For me, Mrs. Manheim is one of those builders that spent years helping to lay the bricks that I now stand on as a graduate of Midlothian High School…Walking to her class, I could always count on feeling like I could do anything when I got out because she would instill that idea in my head…And to this day, without her checking in on me from time to time, and seeing her when I return to Virginia, I would not continue to be the man that I am today." – Malcolm Stewart, Midlothian Class of 2014 and UVA Class of 2018
"Whenever a new class being taught by Mrs. Manheim is open to students, it consistently reaches maximum because every student truly understands the value of what is being taught by such an inspirational and knowledgeable teacher. Chesterfield County Public Schools are very fortunate to have a teacher that is as dedicated and motivating as Mrs. Carolyn D. Manheim." – E.J. Cunningham, Midlo Class of 2014 and Cost Guard Academy Class of 2018
"Although she is an outstanding teacher, a dedicated sponsor, a devoted team player, a super mom, and a true asset to the community, more importantly, she also is a kind and decent human being, a trait to which we all should aspire. I deeply admire her commitment to her family, to our school, and to the Midlothian community.  I have confidence that Carolyn will represent CCPS well as Teacher of the Year. Carolyn Manheim's instinct is to lead and to rise to any occasion, which makes her an exemplary asset to Chesterfield County Public Schools." – Mrs. Jacqueline Tully, 2019 Teacher of the Year
"I have known Carolyn for eight years through various roles at Midlothian High School and through the DECA competitions. Her extraordinary work with her students is evident through the success of Midlothian High School's DECA team. Throughout the years, her students have gone to district, state, and the national level competitions. Carolyn traveled with her students to attend these competitions, giving up personal time to travel to various cities to support and coach them.  In the classroom, outside the classroom, with special activities and events, Carolyn arises upon all." – Ms. Cheryl Boyd, Retired School Counseling Coordinator 
"While Ms. Manheim's stellar IB scores, which rank the highest at Midlothian High School, and numerous DECA achievements speak for themselves, it is her caring, encouraging, and innovative teaching style which has established her as a teacher leader for Midlothian High School and Chesterfield County Public Schools. Ms. Manheim is a tremendous teacher, and her growth as a life-long learner will undoubtedly bring about positive change for her students, colleagues, and school." – Mrs. Elizabeth Baber, Assistant Principal
"I have known and worked with Carolyn for the past seven years. Since her coming to Midlothian, both our business and marketing programs have grown. The Marketing DECA student organization, which was almost non-existent before her arrival, now has 100 members that annually qualify and attend both the state and national level competitions. Many students have commented that the DECA program was beneficial to their career exploration and one of the few aspects of their high school experience that they enjoyed." – Mr. Stephen Hayward, CTE Department Chair
About the Photographer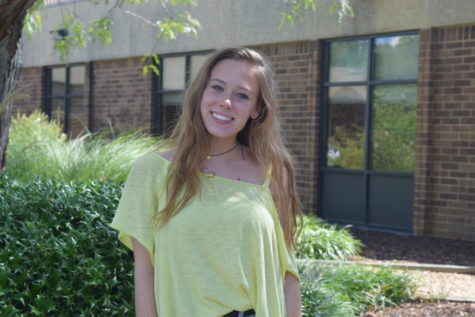 Sophie King, Midlo Scoop Photographer
Sophie King, Class of 2019