IB Appreciates Favorite Teachers
Teacher Appreciation Week 2019
Every year, Teacher Appreciation Week celebrates teachers and their arduous efforts in and out of the classroom. As Teacher Appreciation Week rolls in from May 6th to May 10th this year, Midlo teachers deserve appreciation for their work to better the Midlo community. Although becoming a teacher requires life-long learning, passion, curiosity, positivity, and endless patience, becoming an International Baccalaureate (IB) teacher demands similar ideals at a different standard. To reach the needs that IB students require with their challenging education, IB teachers must go above and beyond with their accessibility, care, knowledge, and mentoring. To thank the IB teachers who have impacted the Midlo community with their unparalleled teaching methods, the students currently enrolled in the IB program shared their all-time favorite IB teachers:
Britney Price (12): "I adore Ms. Petersen! She is extremely reliable, helpful, and such an enthusiastic individual."
Mariah Rodriguez (12): "Mr. Kirkbride always takes the time to talk to students and is very willing to help anyone that needs it. We appreciate it, Mr. Kirkbride!"
Navilia Gottipati (11): "I would say Mrs. Hoke is my favorite IB teacher because she has put up with our class for 2 years and one of the years being pregnant. Our class is definitely not easy, and I appreciate that she bears with us every single day."
Czar Gentius-Harris (12): "My favorite IB teacher is Mr. Spewak. He's very kind, patient, and down-to-earth. Mr. Spewak cares deeply about students' academic performance and well-being."
Lara Ballout (11): "Mrs. Trost is such an amazing teacher! She always gives us extra help whenever we need it, and she cares about all of her students."
David Maddirala (12): "My favorite teacher has to be Sra. Jimenez. She always makes jokes, and she is very easy to talk to. I used to not like Spanish at all, but the way that she teaches makes it a lot more fun, and I enjoy her class."
Avnee Raje (11): "Hands down, my all-time favorite IB teacher is Mrs. Hill. She comes up with the most creative lessons, and I never leave her class feeling like I didn't understand the material. She also prioritizes her students, especially their mental health, which means a lot to me. If we are stressed, she will immediately have us sit down for a quick meditation session, or she will take the time to listen to our personal problems, ready to help in any way she can. We love Mrs. Hill!"
As Teacher Appreciation Week approaches, go out and give a token of appreciation to all of Midlo's hardworking and deserving teachers.
Leave a Comment
About the Contributor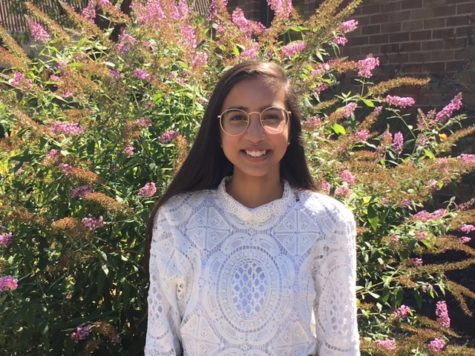 Nabiha Rais, Copy Editor
Nabiha Rais, Class of 2019