Midlo Boys Lacrosse Dominates LC Bird
Midlo Trojans vs. LC Bird Skyhawks
On Monday, April 15, 2019, Midlothian Boys Lacrosse took on the L.C. Bird Skyhawks. Looking strong coming off warm ups, Midlo started strong in the first quarter, as senior Bryson Miller secured the first goal. Although Bird fought hard to gain the ball, the Midlo offensive lineup had other plans. Will Heslink and Derek Christmas scored goals right off the bat, keeping Midlo in the lead. With L.C. Bird trailing behind in the first quarter with a score of 3-0, the Skyhawks continued to attempt shots at Midlo's goalie, but Potter made incredible saves and cleared the ball back to Midlo's offense.  Throughout the game, Midlo's defensive lineup stood strong and kept the ball away from their goal, obtaining three more goals from Otto Waldbauer, Blake Longest, and James Mills to finish the first quarter with a score of 8-0.
As the teams switched sides for the second quarter, the Midlo defense helped protect the goal, as they fought the Skyhawks' attack. Midlo's offense then regained control of the ball, as Christmas secured his second goal of the night. The Trojans brought the ball back to the L.C. Bird goal and scored with a goal from junior Paul Miller, followed by another goal by Heslink. The teams vied for possession, but with their vigorous energy and unmatched skills, Midlo scooped the ball and maintained their lead, as Waldbauer and Longest sent the ball sailing past the opposing goalie. As the second quarter closed, junior Wes Singer scored another goal, marking the end of the first half 14-0.
As the third quarter began, Midlo worked hard to maintain their lead.  With a minute left in the game, junior Aidan Wild scored, making the score 18-0, followed by a shot by senior Austin Bell, bringing the score to 19-0. L.C. Bird offense never gave up, however, scoring twice towards the end of the game. As the game concluded, the Trojans claimed a strong 19-2 victory.
About the Photographer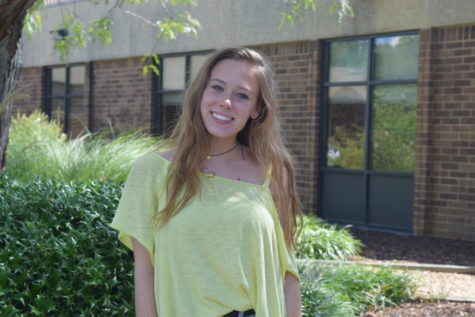 Sophie King, Midlo Scoop Photographer
Sophie King, Class of 2019