Midlo Hosts CCPS Fine Arts Festival
2019 CCPS Fine Arts Festival
After months of preparation by the Midlo Art Department and the National Art Honor Society (NAHS), Midlothian High School hosted an extremely successful Fine Arts Festival to represent the fine arts and performing arts community of Chesterfield County. The Chesterfield Fine Arts Festival took place on Saturday, April 13, 2019, from 9 am to 4:30 pm. The annual event celebrates art by featuring visual art displays and performing art productions. With the Open and Closed Commons, both gyms, auditorium, and most halls buzzing with art, activities, and performances from all levels, the Fine Arts Festival provided entertainment and education for visitors of all ages.
Each of the 62 schools in Chesterfield County offered plenty of talent to go around. Mido showcased art displays throughout the school, and performances included recorder concerts, string ensemble, orchestra, and choir recitals. CCPS students, ranging from kindergarten to grade 12, received an invitation by CCPS to display their artwork or perform with their groups at the festival. Between performances and demonstrations, visitors found pleasure in visiting multiple activity stations positioned around the school, including: button making, air brush tattoos, and face painting.
Midlo visual art students, especially those contributing on behalf of NAHS, took extreme pride in the work they put into this year's Fine Arts Festival. "I've attended the Chesterfield Fine Arts Festival in all four years of high school. I was so excited to hear that the festival would be taking place at Midlo during my last year [as] a Midlo student," NAHS member Devyn Vernier shared. "The festival was a huge success. It was so great to see how many people came together to make it amazing."
In the Performing Arts department, Midlo's Orchestra shined brightly at the Fine Arts Festival. Trajan Davis, Rachel Damico, Jacob Cantor, and Brianna Cantrall performed together as a string quartet. "The performance was great, and we even witnessed it inspire young performers to continue their music careers," Davis remarked. "I think that's an important part of the festival. It influences young ones to continue pursuing art or music." Other musical performances took place, such as the Robious Middle School Jazz Ensemble, Meadowbrook High School Choir, and All County Drama Productions. Even Virginia Commonwealth University paid a visit and strummed music with the VCU Guitar Ensemble. Each of these productions demonstrated essential components of performing arts.
Mrs. Erinn Dismore of Midlo's Social Studies Department is one of many Midlo faculty members, who took pleasure wandering the hallways of Midlo during the Fine Arts Festival. Mrs. Dinsmore explored the art with her 4 year old daughter, who was in awe of the music and visual art. "The variety of art prompted a discussion about how art is not just drawings and paintings, which floored her," Mrs. Dinsmore explained. "Beyond her experience, I had a wonderful time looking at my students' artistic creations. It is fascinating to discover talents students have that I don't always get to see teaching history."
About the Contributor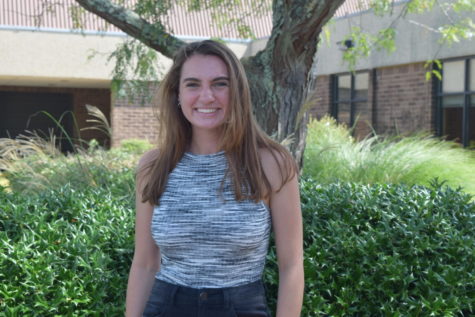 Carrie Rowley, Midlo Scoop Staff