Midlo Boys Lacrosse Claims Victory Over Rival Titans
Midlo Trojans vs. Cosby Titans
On Wednesday, March 20, 2019, Midlothian Boys Lacrosse took on the mighty Cosby Titans. After a JV loss in a close game of 6-7, the Varsity players geared up during warm ups, eager to hold their title by defeating Cosby. Since the birth of the program, Midlothian Boys Lacrosse has dominated in both JV and Varsity against their rivals, Cosby. Prior to the game, Midlothian goalie, junior Oz Potter, showed off his speedy skills throughout warm ups, as he blocked the fast balls Coach Daniel Deck threw straight at him, while the rest of the team prepared for the intense game awaiting them.
The first quarter started strong, as senior Bryson Miller scored the first goal with a rapid shot. With Cosby's outstanding defense line attempting to hold back the Midlo offense, senior Will Pomeroy pushed through to score another goal, bringing the score to 2-0 at the end of the first quarter. Starting the second quarter in the lead, junior Paul Miller scored yet another goal right off the bat with an assist from junior Derek Christmas. Cosby trailed with the score of 3-0. With a burst of intensity, Cosby began to step up their game by scoring twice in a row on the Midlo goalie. The second quarter finally closed with a score of 5-3 in Midlo's favor. As the whistle blew to call the half, Midlo cooled down and discussed game strategy to prepare for a brutal second half and maintain their lead.
Coming into the third quarter strong, senior Joe Hester fired a precise shot right through the Cosby goalie's legs to score another goal for Midlo. Then, Cosby scored two more goals in an attempt to catch up. However, Midlo  answered with goals by Pomeroy and Hester.  Although the fatigue became a factor in the fourth and final quarter with the close score of 8-6, they pushed through the cold and rain to battle out the rest of the game. Despite the chilly, wet weather, Miller finished with a final goal, landing a final score of 9-7. After emerging victorious over the Titans yet again and keeping up their winning streak, the Trojans will travel on Wednesday, March 27, 2019, to Woodberry High School for their next game.
Leave a Comment
About the Contributor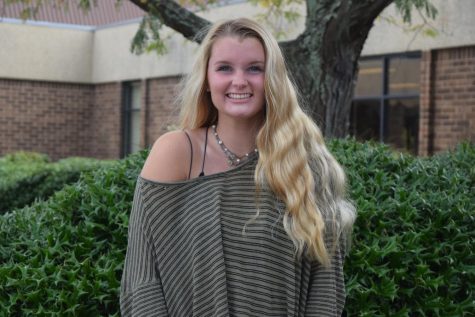 Cara Hahn, Midlo Scoop Staff