Midlo Medford Basketball Celebrates Seniors at Final Home Game
On Thursday, March 7, 2019, the Midlothian High School Medford Basketball team hosted the L.C. Bird Skyhawks as their last home game of the regular season. Before the game commenced, teachers and students recognized the seniors on both the Trojans and the Skyhawks. The seniors for the Trojans are: Amanda Nimmons, Lynsie Dinsmore, Stephen Patton, Tiara Criss, and Liam Altizer.
After the recognition of the seniors, Midlothian's Just for Show sang the National Anthem to begin play. From the tip-off, the Skyhawks drove the ball down the court and earned a quick 2 points.  However, Midlothian quickly countered and earned points of their own. Throughout the first two quarters, both the Trojans and the Skyhawks worked together in a unit and scored multiple baskets. Midlo player, Vincent Biamonte, drove down the court tenaciously several times, earning his team several points off of layups. At the end of the first half, Midlo's Danny Huang sunk a deep three-pointer, making the game a tight match.  
At halftime, Midlothian's Medford cheerleaders performed their routine for family, students, and faculty. Once they had finished, the cheerleaders welcomed students onto the floor for the Cupid Shuffle. After a fun dance break, Coach Kevin Thomas huddled up his team to talk about second half game strategies.
Throughout the second half, the Trojans attempted several counter-attacks and tightened the score gap with the Skyhawks.  At the end of the quarter, Midlothian player Terence Reynolds sunk a buzzer-beater three pointer. Between the quarters, Stephanie Kulyk, a member of Midlo's Medford cheering squad, performed a dance she had practiced all year. Throughout the final minutes, the Trojans and the Skyhawks battled. Although the Trojans played a hard-fought game, the Skyhawks ended up on top. 
About the Contributors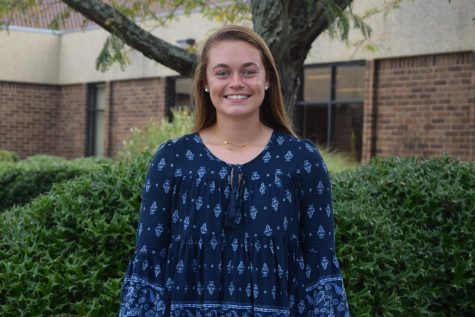 Erin Junkmann, Sports Editor
Erin Junkmann, Class of 2020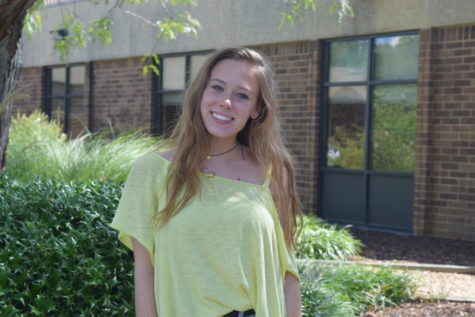 Sophie King, Midlo Scoop Photographer
Sophie King, Class of 2019