A Space for Relaxation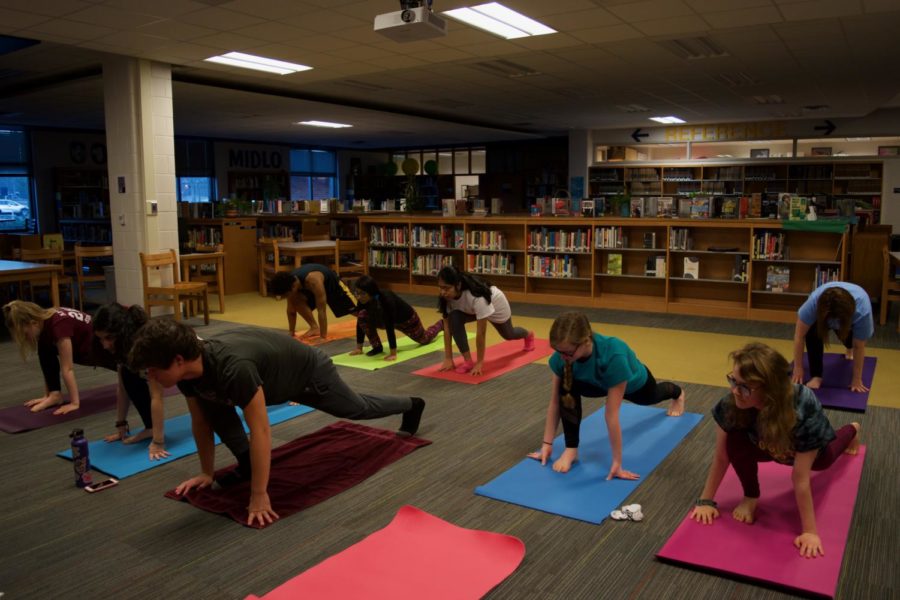 Every Wednesday, Avnee Raje arrives to school at 7:15 AM to lead Yoga Club in the library at Midlothian High School. Sponsored by Mrs. Hill and Mrs. Heather Murphy, the club provides a space for anyone interested in relaxing and getting in touch with their inner self. Each meeting starts with fellow students rolling out their mats, and  Raje leading them into different exercises: first, a five minute guided meditation, followed by gentle yoga stretches and poses such as candlestick and eagle pose, as well as sun salutations. After forty-five minutes, Raje concludes with 10 minutes of shavasana or corpse pose, a relaxation pose at the end of the session to allow students to relax before the school day begins.
Raje started the club at the beginning of the year, but her motivation for starting the club runs deeper than simply providing a space for exercise. For the junior, yoga is an important and essential part of her life. "I do yoga regularly… at least once or twice a week," said Raje. "Yoga is extremely relaxing, and it calms me down. I wanted to be able to bring that to my peers." Not only does she consider the discipline calming, she also finds that it strengthens her mind and body as well.
Having a space to relax is essential for Raje, a bright and busy IB junior, whose days are often jam packed with schoolwork and numerous extracurricular activities. In addition to starting Yoga Club, she also plays on the varsity tennis team, excels on the piano, serves as an officer of the Midlothian Forensics & Debate team, acts as historian of the Red Cross Club, volunteers at St. Francis Hospital.
Still, Raje maintains a desire for fitness and exercise. For the second year in a row, she is choreographing a Bollywood dance to perform at the IB International Festival on April 18th. Every weekend, she and 16 other students practice perfecting their choreography. She is extremely busy, Raje admits, but yoga is one of the ways she manages to de-stress in order to not let her responsibilities overwhelm her; she explains, "I dedicate 10 minutes each day to have to myself, and it helps a lot. At the beginning of each week, I write down a giant to-do list and reflect on what I need to get done during the week."
The most important thing to keep in mind about Yoga Club, Raje emphasizes, is that "You don't need to be flexible to join! People hear 'Yoga Club' and think that they need to compete against each other, but this is a no-judgment zone. You're just doing it for yourself and for your own self improvement." Junior Anushka Pandya, a regular Yoga Club member, agrees. "I didn't think I'd like it at first, but after I started going to meetings, I discovered that I really like yoga, and it helps a lot to be able to relax before school." A usual meeting, Pandya later adds, can be summed up in three words: relaxing, reflective, and mindful. For students overwhelmed by schoolwork and other everyday stresses, Yoga Club may just provide the relief they need in order to take a breath and calm down. Visit Mrs. Hill or Mrs. Murphy with any questions.
About the Contributor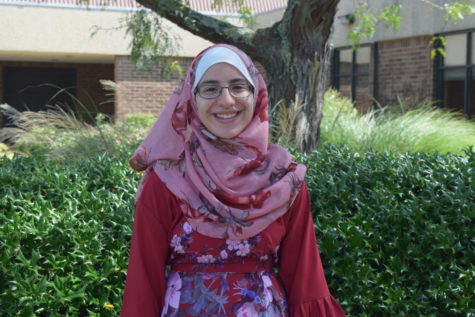 Nour Goulmamine, Midlo Scoop Staff