Midlo Indoor Track Races at States
2019 VHSL Indoor Track and Field State Championships
On February 22 and 23, 2019, Midlo's Indoor Track and Field team competed at the VHSL State Indoor Track and Field Championships at Roanoke College in Salem, Virginia. These elite athletes worked, trained, lifted, and raced their way through the indoor season, and this meet put every competitor to the ultimate test. Battling through injuries and illness, the Trojans performed with every ounce of strength, and at the end of the meet, every athlete left bearing proud smiles.
The Midlo Girls Indoor Track and Field team began the competition with one goal: win the team championship. Every Lady Trojan fought to the finish line, and for the first half of the meet, they led the team championship competition. During the meet, Senior Erin Babashak always energized and encouraged her younger teammates with phrases like, "We can win this thing!" and "Everybody has to get some points!" As the meet drew to a close, the Blacksburg Bruins took the state title, and the Midlo Ladies Indoor Track team finished in second place, making them the VHSL Indoor Track State Runners-Up. Babashak not only had three all-state performances in the long jump, triple jump, and 55 meter hurdles, but she also qualified for the New Balance Nationals meet in the triple jump. Additional all-state athletes include: Dasia Hardy (5th, 55 Meter Dash and 4th, 300 Meter Dash), Caroline Bowe (3rd, 1000 Meter Run), Madelyn Venable (5th, 55 Meter Hurdles), 4×800 Meter Relay (Millie Weinhold-Lena Caffall-Caroline Bowe-Annabel Schepker, 4th), and Taylor Wiggins (4th, Shot Put).
The Midlo Boys Indoor Track and Field team consisted of eight Trojans, but their strength and power never wavered; these elite athletes made the most of their small population, finishing twentieth overall in the team competition. The 4×800 Meter Relay, consisting of Ian Gray, Joey Maguire, Andrew Steenkamer, and Max Etka placed fifth overall, which earned them an all-state title. Brayden Staib finished fourth overall in the Shot Put, another all-state finish, and Jake Kern finished eighth overall in the Shot Put. Other strong performances included: Max Etka (9th, 3200 Meter Run), Lundon Anderson (20th, Long Jump), and Brian Tavenner (16th, 3200 Meter Run).
Most of the 2018-2019 Indoor Track and Field team returned for the Outdoor Track and Field season, which began on February 25, 2019. 
About the Contributor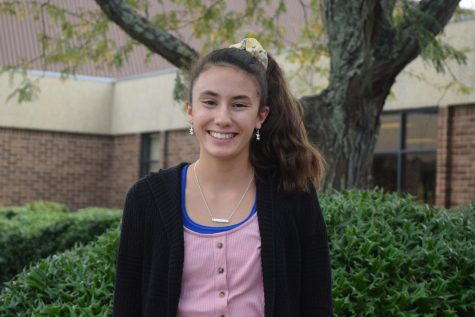 Katherine Krievs, Editor-in-Chief
Katherine Krievs, Editor-in Chief, Class of 2021