Embracing French Language at Congrès
The Annual French Congrès Convention 2019
On Saturday, February 23, 2019, Monacan High School hosted the annual French convention, Congrès. This exciting event includes French competitions for students of all levels, such as Art Reproduction (reproducing French art), Dictée (writing a French oral presentation), Que Savez-Vous (French trivia), Lecture Dramatique (speech spoken in French), Marche (market), Posters (presenting a poster on a subject in French), Récitation (memorizing a French poem), and French Idol. Each year, the sponsors remind the participants of the origins of Congrès. In the 1980s, Madame Bartle noticed the success of Latin Convention and wanted to fill the need for the French classes. Thus, the tradition of Congrès bloomed.
This year, Congrès commenced with the opening ceremony, thanking the sponsors for putting this competition together and the students for participating. Students came from both middle and high schools across Chesterfield County and surrounding areas. The sponsors further congratulated the students who had participated in Congrés for four or more years. Afterwards, the speakers released the students to their competitions. The itinerary included: the competition, market and lunch, workshops, and the closing ceremony. Each competition allotted one hour for the completion of said competition. Chloe Arsac, who competed in market, took the one hour to seriously prepare for the competition, explaining, "The marché (market) team needed all the time we could get to set up." While others, like Sherinne Zhang, finished her art reproduction competition with ease: "I draw regularly, and, thankfully, I was familiar with [the painting]."
After the competitions, a shared lunch-market hour began. The M schools would eat first and then attend market, while the rest of the schools shopped in market first before switching to lunch. The lunch included both vegan, vegetarian, and gluten-free options. Satisfied junior Nadia Yendrick described her eating experience, saying, "I had the Pomme et brie (apple butter and brie sandwich), and I was very pleased. It's not always easy to find good vegetarian options." However, the market seized the crowd's favorite aspect of the annual event. Senior Amanda Chok upheld this statement with pride: "I've done marché every year, and it's still my favorite part."
Finally, as the judges prepared for the winners of the closing ceremony, students attended their designated workshops, from which the French students had a plethora of options to choose. "I wasn't sure which to choose," said Czar Gentius-Harris, "but I'm glad with what I ended up with!" Many students agreed the workshops always went successfully, no matter which one they attended.
At the closing ceremony, the judges announced the winners of each competition. For the French students who engaged in Idol, the top three sang for the audience. Thereafter, each school had one vote to pick their favorite singer. In the end, the director of competitions, Madame Catherine Mazzola of Midlothian High, shared that this effort expands past the Saturday it takes place. "There's a lot of preparation beforehand, and I'd like to thank everyone that made this day possible."
Congratulations to the Midlo students who placed in their respective competitions:
Sam Huff – 1st place in level 3 Que Savez-Vous
Connor Shutts – 3rd place in level 3 Récitation
Gracyn Southward – 2nd place in level 3 Posters
Czar Gentius-Harris – 3rd place in level 4+ Lecture Dramatique
About the Contributor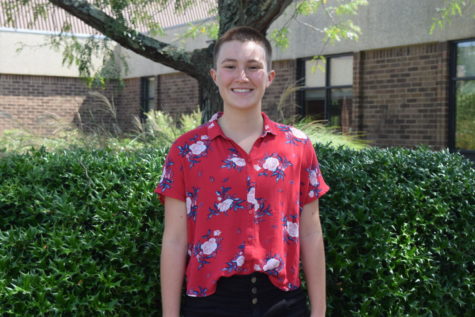 Marisa Ruotolo, News from the Classroom Editor