Hannah Bridges the Gap to Kenya
Senior Hannah Bridges Takes Mission Trip to Kenya Over Winter Break
Hang on for a minute...we're trying to find some more stories you might like.
Over Winter Break, the average student relaxed or enjoyed themselves at home. However, senior Hannah Bridges left for a mission trip on December 8, 2018, with her father to Kenya. During her trip, she met with inmates, families, and orphans. Bridges stayed in Nandi Hills, a rural settlement in the country, and took the time to adjust to the culture shock. "There's some electricity and barely any plumbing. For drinking water, most people drank from the well, but you can get bottled water at the grocery store. I couldn't share my water for safety reasons." She also mentioned the amount of litter on the streets, adding, "If you have an empty water bottle, they just throw it out the window, and kids will play with it. They also let chickens in the house, but they can't let dogs inside because of fleas, so they are more like guard dogs."
The people of Kenya welcomed Bridges, admiring her and shaking her hand. "As a white person, you're rare there. People stared in awe. I got really sunburned, and they didn't understand what it was." Bridges described Kenya as much more than what Americans see online. The culture relies on a sense of trust and dependence in the community, so much so that if someone were to steal a chicken, they could go to prison for two years.
On her mission, Bridges visited different homes, and many of the residents encouraging them to come inside. She also visited prisons in Eldoret and Kapsabet. Bridges describes the prisons more like rehab centers, saying, "There's not any cells; there's not much security. There were a hundred prisoners there, but [I] didn't feel unsafe because everyone was so sweet. There's rarely any repeated offenders." She shared how she and her father handed out soap to the inmates because they are only given one bar per six months. Overall, she found the time she spent there humbling.
Bridges' favorite part of the trip was visiting the orphanage. She and her father brought a duffel bag full of toys, such as: soccer balls, footballs, punch balloons, coloring pages, and books. They spent hours playing with the kids, letting their worries wash away as they spent time with the children. "I showed a girl how to throw an American football, and she was actually really good. Even the adults were amazed by it." No one had seen a punch balloon, so Bridges showed the parents what to do with it. She describes, "It was so much fun! While [I was] there, I forgot everything at home and had the best time playing and throwing a football with this little girl. Kids don't have any worries, so I loved spending time with them."
Bridges returned home on December 20, 2018, feeling not only humbled, but different. "I came out of it thinking that I may not have special powers, but I can still go to people and tell them I care."
About the Writer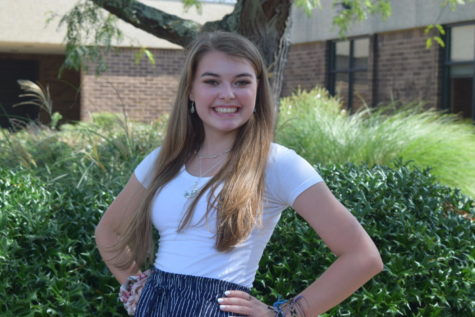 Rachel Bybee, A & E Editor