The Ball's in Their Court
Among the many competitive sports offered at Midlothian High School, both the boys and girls tennis teams have proved to be formidable forces. The boys tennis team has done well in the past and approaches this season with similar goals, as senior Matthew Cousins, one of the team captains and most seasoned players, remarked, "Winning the state title is definitely the team's main goal for this spring season."
Last year, with Bryan Tucker as a co-captain, Cousins worked with the team and established connections with each players because he knew he would be on the team for the next year as well. Now, with Cousins graduating within the next few months, he looks forward to a new role: mentoring junior co-captain Thomas Jackson. "Thomas is still trying to gain the authority to lead the team, but he's doing great by taking responsibility and trying to set a good example. It's good to work with him," says Cousins.
Juniors Thomas Jackson and Nikesh Kamani discussed the challenges and wins that the team has already faced this year and contemplated last year. "We got to state championships last year, but we were defeated by E.C. Glass," said Jackson. When asked about their goals for this season, both instantly said, "take states".
"In our division and conference, the people we play are pretty much consistent," said Kamani. "We have been playing more private schools this year, like St. Chris, Collegiate, and Deep Run." Kamani and Thomas reflected on the games so far and believe that last year was smoother and more expected, while, this year, the team is still getting into the groove and putting things together.
With experience, determination, and an excellent team of cooperative individuals, all of the boys look forward to what promises to be an excellent season.
About the Contributor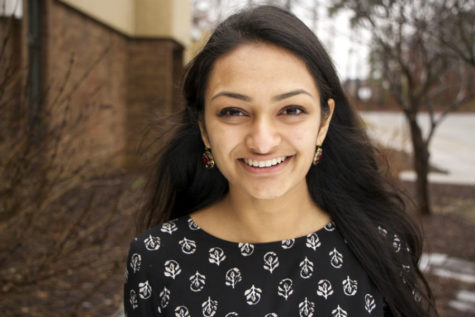 Neha Kulkarni, Midlo Scoop Staff