An IB Evening on the River
On Friday, September 7, 2018, The International Baccalaureate Program (IB) held the annual IB Welcome Back Picnic, which allows IB families to interact with one another and make new memories together. After a long first week of school filled with signing syllabi, paying fees, scrambling to class on time, and settling into a new routine, the IB Picnic was an excellent way for IB students to relax and reward themselves for their efforts during the chaotic week. Held at Robious Landing Park, the IB Picnic was not only "an awesome way to close out the first week of school, but it was also a great way to kick off the 2018-2019 school year," explained IB Coordinator, Mr. Mark Spewak. The IB Picnic aimed for IB families to interact with each other and take their minds off of their busy schedules.
The IB Picnic took the picnic part very seriously, offering chargrilled burgers and hot dogs, served hot and ready. The second the meat hit the grill, the delicious smell immediately made mouths water and stomachs grumble. As the students filled their plates and stomachs to capacity with fresh food, they immediately craved more.While everyone enjoyed their plates, filled with an assortment of meat, cookies, and chips, IB Parent Council President Mrs. Annette Ruzicka spoke about the IB Program, the IB Picnic, and other IB-related information. After the informative speech, the picnic on the land turned into a picnic on the water, as attendees made use of the James River to cannonball, dive, and swim. This proved memorable for the students, as IB junior Avnee Raje recalled, "We all jumped into the water with Mr. Spewak himself; it was my favorite part of the entire evening!" 
The IB Picnic was "an eye-opening and fun experience," said IB senior Czar Gentius-Harris, "It is my second year here, and I have to say, it was as fun as last year's picnic!" The picnic was an opportunity for students to create new memories with their IB family. It reminded everyone to "take some time away from work and deadlines and other distractions every once and a while, and just get outside and spend time with friends and family," said Mr. Spewak. Overall, the IB Picnic gave everyone a way to make unforgettable memories, connect with each other on a whole new level, and grow stronger as an IB family.
About the Contributor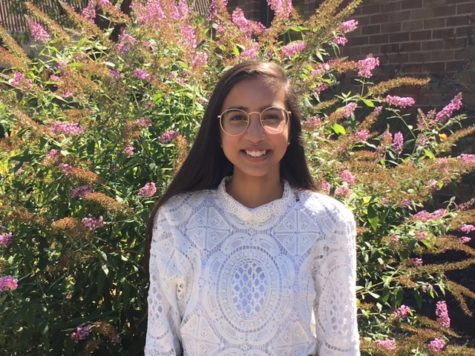 Nabiha Rais, Copy Editor
Nabiha Rais, Class of 2019