Lady Trojans Soccer Kicks into Regionals
On May 24, 2018, the Lady Trojans Varsity Soccer team faced their rivals, the Monacan Chiefs, in the first round of the 4A Regional Tournament. Following a successful season, the Trojans took the field, ready to make their best attempt to advance in the competition.
The starting lineup consisted of: Sarah Aud, Kaity Lucero, Logan Georgel, Bailey Honrado, Erin Fogle, Nicole Czyzewski, Madison Stockdale, Eleanor Ross, Addie White, Erin Wasson, and Zoe Long. During the first twenty minutes, the score remained tied at 0-0, despite the strong offensive play of Aud and Georgel. Meanwhile, Ross and Honrado commanded their areas, executing many defensive steals from Monacan athletes. As the first half progressed, Erin Junkmann and Lauren Everhart used their impressive technique and super speed to gain control of the ball and connect passes to teammates. As the clock approached thirty-minute mark, the Lady Chiefs broke through Midlo's defensive line, scoring the first goal. Then, the Chiefs capitalized again, scoring their second goal. At halftime, the Trojans were down by a score of 0-2.
After halftime, the Trojans came back determined to conquer the Chiefs. Following a surge to the top of the field, Junkmann shot on goal, narrowly missing it. However, this fierceness and perseverance diffused throughout the field, and the Lady Trojans began to connect smooth passes and take powerful shots. Near the sixty minute mark, Ross fired a corner kick into the box, allowing a Trojan another scoring opportunity. Throughout the second half, the goalkeeper, Long, applied her wicked hand-eye coordination and accurate punts to prevent the Chiefs from earning another point.
After eighty minutes of heartfelt play, the Trojans fell to the Chiefs by a score of 0-2. Erin Junkmann remarks, "We had a good season, with a winning record at the end. It hurt to have lost to Monacan in the same game that we did last year." Looking forward, she comments, "We are excited for next year, and we can't wait to crush Monacan." This game was the conclusion of a strong season for the Lady Trojans.
About the Contributor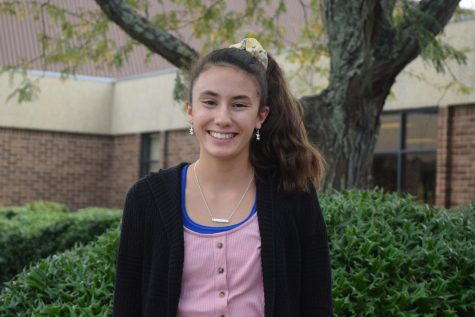 Katherine Krievs, Editor-in-Chief
Katherine Krievs, Editor-in Chief, Class of 2021