Trojans Baseball Team Takes Down Titans for First Time in 10 Years
The rivalry between the Trojans and the Titans baseball teams has developed into a must watch sporting event. On Tuesday, May 1, 2018, the two teams faced off in the final showdown, a match-up brewing for weeks on end. Many players on both teams have been teammates and friends since long before high school. As teammates on travel ball, many of Midlo's and Cosby's athletes developed close friendships, and with that comes a competitive spirit. Senior pitcher Ben Hammond described the atmosphere leading up to the game as "exciting because this was our last chance to beat those guys, and we haven't done that in ten years." As if there wasn't already enough build up to this late season game, the fact that this was the Trojans' last chance to beat the Titans at home for the first time in the last decade added even more fuel to the fire. With emotions running high and adrenaline coursing through the players' systems, the stage was set for an epic showdown.
A key to this game for the Trojans was to jump out to an early lead, and Tyler Moore's two RBI double did just that. After drilling a line drive past the third baseman, Moore barreled past first and into second, while Carter Lavez and Christian Chambers scored from second and third. Cosby responded with a pair of RBI singles in the top of the second, leaving the score at 3-2 Midlo after two innings. The drama continued, as both Midlo and Cosby knocked in two more runs before the 5th inning. Then, for the first time in ten years, the tides began to swing in the Trojans' favor. Led by Baylor Cumbea's 4 RBIs and lock down relief effort, Midlo built up a commanding 10-4 lead heading into the 6th inning. After a scoreless top half of the inning, the Trojans added insult to injury by driving in in two more runs, thanks to Camdton Furman's and Logan Smith's superb hitting. By a final score of 12 to 4, the Midlothian Trojans took down the potent Titans in their last home stand against the rivals.
After the game, senior Reed Boettner summed up the Trojans' game plan, saying, "We came out attacking from the beginning, and it helped that we were already motivated to beat that team. It helped up focus leading up to the game." This game proves that when the Trojans baseball team commits its minds and energy to something, never count them out. They hope this reputation of resiliency and hard work will lead them far into the postseason, as they peak at arguably the perfect time. As the regular season comes to a close, all eyes are on the Trojans, as they prepare to deal some serious damage in the postseason.
About the Photographer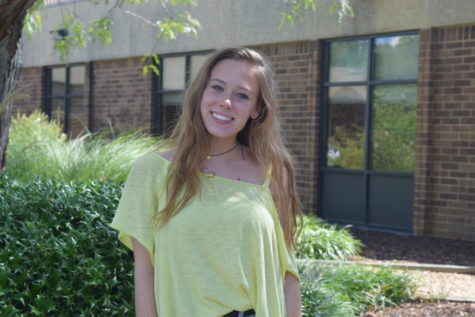 Sophie King, Midlo Scoop Photographer
Sophie King, Class of 2019