Youngest Joyce Leaves Mark on Midlo
Most people argue that growing up as the youngest in the family is easy living, but in rare cases, the youngest can end up dressed head to toe in hockey equipment, placed in front of a lacrosse net and used as target practice for their five older brothers. This was the case for varsity football and lacrosse captain Casey Joyce. Serving as his brother's dummy for paintball target practice taught Joyce how to "toughen up," and while it may have hurt at the time, has "certainly paid off in the long run," said Joyce. "They used to beat the crap out of me, but honestly, I'm glad they did because it just taught me how to ignore the pain and become a better athlete." For those who have never participated in competitive sports, it may be hard to understand the sheer grit required to compete day in and day out, but the story of Midlothian High School senior Casey Joyce exemplifies what it really takes to be the best.
As a kid, Joyce was surrounded by nothing but sports and incredible athletes. His brother closest in age, Justin Joyce, stole the show as arguably, the best quarterback Midlothian High School has ever seen, later going on to play at the collegiate level for the Iowa Hawkeyes.
By the time Joyce turned 9, he found himself deeply enthralled by the world of tackle football and lacrosse, two of the most violent and taxing sports in the American culture. Joyce attributed his massive interest in sports to the environment he grew up in, saying "Ever since I was a kid, everyone I knew played sports, so that's all I ever knew." Now 10 years after first getting involved in the world of organized sports, Joyce finds himself as a first team All State Lacrosse Goalie, as well as a First Team All Metro Defensive Back and Wide Receiver, two awards granted to only the elite-performing athletes in the region.
However, this reign of success did not come without its setbacks and challenges along the way. In week one of the 2017 football campaign, Joyce endured his first dislocated shoulder, attempting to go low on an incoming running back. After fighting back the pain and missing just one week, lightning struck twice, this time popping the same shoulder out of place on a dangerous collision with a linebacker. After suffering one of the most agonizing injuries in sports twice within just three weeks, Joyce was forced to watch his team play from the sidelines for an extended period of time. It was during times like these that growing up in the tough environment of four older brothers helped to make Joyce the athlete that he is today. The ability to fight back the pain of injury had long been engrained in his character, allowing Joyce to return to action just before Midlo's first playoff run in 23 years.
The Midlothian lacrosse team is currently a couple weeks away from their first playoff game, in part thanks to captain leadership from seniors David Foster and Joyce, poised to make yet another deep run with hopes of bringing home a state title. Throughout this journey, as Joyce stands in the goal, fighting off opponents' bullet-like shot attempts, flashbacks of "doing anything to impress" his older brothers will without a doubt remain in his mind. 
About the Photographer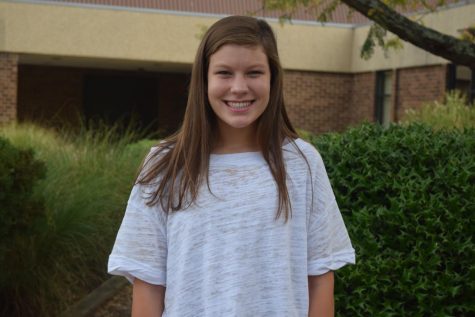 Zoe Kopidis, Midlo Scoop Photography Editor
Zoe Kopidis, Class of 2020